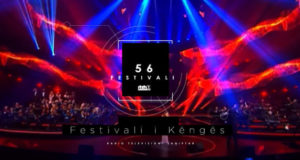 After hearing all 22 acts competing in the 56th edition of the Albanian music festival Festivali i Këngës, the question is what do they have to offer? The two semi-finals take place on the 21st and 22nd of December, and they include a lot of variety..
This Saturday, we will know who will represent Albania at the 2018 Eurovision Song Contest. Below, we review the rest of the 22 songs, following the first half from last week. After listening to all the songs, Albania has indeed, a lot to offer – from romantic and passionate ballads to the most unexpected rock songs.
Lorela Sejdini – Pritëm edhe pak
Lorela Sejdini is an Albanian law student who sings in her spare time. She is originally from Albania, but lives in Turin, Italy. She has performed at the Albanian version of 'The Voice', and makes many covers. This year, Lorela enters the Festival i Këngës with her song: 'Pritëm edhe pak' (Wait for me some more). It is a lively, party like song, however very repetitive. It is very fresh and modern, something radio-friendly, and Lorela's voice is very sweet.
Luiz Ejili & Rezarta Smaja – Ra një yll
Luiz Ejili and Rezarta Smaja are two Albanian singers. Both have won many awards in the music industry, and both have had experiences with the Eurovision Song Contest. Luiz Ejili represented Albania at the Eurovision Song Contest in 2006, with the song 'Zjarr  e ftohtë' but failed to go through the finals. Rezarta, however, did not represent her country in the contest, but she placed in the top 10 in the 53rd Edition of the Festival i Këngës, placing 7th, and then in the 54th edition, placing 4th. This year, the two form a duo, and enter their song 'Ra një yll' (A star has fallen) to the festival. The song is very harmonic, Rezarta is a very good singer, and Luiz fits in very well. It is a very dramatic entry, very passionate, and it seems like there is a lot of chemistry between them.
LYNX – Vonë
LYNX is an Albanian pop and rock group. It is a band composed of four members: Aurel Sesso, Endrik Beba, Eno John, and Renato Rexha, all coming from Tirana. They are quite noted in Albania. They first formed their group in 2007, and since then, they sang in different places from clubs to music festivals. One of these music festivals being the Kenga Magjike, which they have participated in three times, in 2012, 2014 and in 2016. This year, the band sings their song 'Vonë' (Late) at the 56th edition of the Festival i Këngës. It is a contemporary song, and very accessible to people, as it is a song with a style that is very much liked. It is a rock and electric song, it sounds like a hit, and we are sure it will be!
Manjola Nallbani – I njëti qiell
Manjola Nallbani is a fifty-one-year-old famous Albanian opera singer. She is noted for winning the Festival i Këngës three times, in 1989, 1992, and in 1993. In the 49th edition of the festival, she sat in the jury who appointed the winner and who would represent Albania at the 2011 Eurovision Song Contest. At the 56th edition of Festival i Këngës, Manjola Nallbani will perform her song 'I njëti qiell' (The Same Sky). It sounds like something that would be sent to Eurovision. It is fun, yet also ferocious.
Mariza Ikonomi – Unë
Mariza Ikonomi is an Albanian singer. Not a lot is known about the singer, but she will participate in the Festival i Këngës this year with her song 'Unë' (I). Her voice is powerful, and her piano solo is also. It is soft, it is loud, it is calm and it is crazy. This song has everything – it is a beautiful ballad and is very promising.
NA & Festina Mezini – Tjetër jetë
NA is a popular Albanian group. They have released many songs, of which are mostly covers, and are quite noted in their home country. Festina Mezini's voice, on the other side, is said to be one of the most powerful voices of X-Factor Albania. She comes from a family of artists – her parents involved with music too. She was one of the favourites to win the X-Factor in Albania; however, after not winning, she joins NA and together they form a duo at this year's Festival i Këngës, singing their song 'Tjetër jetë' (Another Life). The song is harmonic, and very heart-warming. The band and Festina fit in together well, and with a good performance, we are sure they could both impress us and the jury.
Orgesa Zaimi – Ngrije zërin
Orgesa Zaimi is a 32-year-old Albanian singer, who participated in many music fesitvals such as Kënga Magjike, in 2006. She was one of the background singers of Kejsi Tola, who represented Albania at the Eurovision Song Contest in 2009. This year, Orgesa tries to get her own experience at the Eurovision Song Contest, and enters the Festival i Këngës with an energetic and fun song: 'Ngrije zërin' (Raise your voice). It is very promising as it is loose and the audience will feel good as they listen to the song.
Redon Makashi – Ekziston
46-year-old Albanian singer and composer Redon Makashi will participate in this year's Festival i Këngës. He participated in the festival before, his first time being in 1989, where he finished second. In 2011, he was one of the judges at the 50th edition of the Festival i Këngës. This year, he sings at the festival for the third time with the song 'Ekziston' (It Exists). It is a mild rock song, strangely friendly, mature, the song accompanied by a guitar, however, repetitive.
Tiri – Orë e ndalur
Tiri, although not a lot is known about him, is an Albanian singer, who enters the 56th edition of the Festival i Këngës with a fun, country song .- Tiri seems to be a very fun person and a bit dreamy from his music video – which is slow, unlike to most country songs. It is very likeable.
Voltan Prodani – E pamundur
Voltan Prodani is a musical artist from Albania. He is not such a noted singer, however he will enter this year's Festival i Këngës as a passionate pianist with his song 'E pamundur' (Impossible). He has a very nice voice, he seems to be very into his song during the music video and passionate as he plays the piano. With a good performance on stage, he'd be able to get through the finals.
Xhesika Polo – Përjetë
Xhesika Polo, an Albanian artist, participated at the Albanian X-Factor, and is very successful in general in her home country. She has many songs released, and this year she will participate at the Festival i Këngës, with her song 'Përjetë' (Forever). She has an amazingly strong voice, and the song is something that would do well in Eurovision. It is a song that would impress many people, and it certainly impressed us as her voice is very good. With a good performance, we might see her performing on the Eurovision stage soon!
This brings us to the end of our Fesitval i Këngës song reviews. We are very impressed by the high standards delivered from these artists, and we are sure they will do extremely well during the live show. You can listen to all the songs here:
This reflection article is based on the author's own personal experience. Views expressed belongs to him or her, and are to be seen as unrelated to EuroVisionary.com.