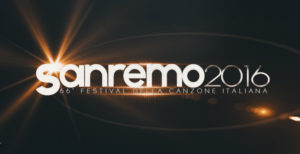 The Italian broadcaster RAI announced the 12 acts who will fight for the six places in the Sanremo 2016 Final in the newcomers category. The prequalification round will take place on the 27th of November on RAI1 from Teatro Ariston in Sanremo.
Twelve hopefuls newcomers will fight for the six places in this year's Sanremo final. RAI publish the names along with their songs through its official site. Below you can listen the 12 entries:
Italian broadcaster RAI had already previously confirmed that the Sanremo 2016 winner will have the right to go to the Eurovision Song Contest 2016 in Stockholm for Italy. Sanremo 2016 will start on the 9th of February and end on 13th of February. Carlo Conti will once again host all 5 shows. The exact progamme of Sanremo 2016 is as follows:
Serata 1: February 9th (Tuesday)
Serata 2: February 10th (Wednesday)
Serata 3: February 11th (Thursday)
Serata 4: February 12th (Friday)
Serata 5: FINALE – February 13th (Saturday)
Italy in the Eurovision Song Contest
Italy has participated in the Eurovision Song Contest 40 times since making its debut at the first contest in 1956. It was one of only seven countries that competed at the very first contest. Italy competed at the contest frequently until 1997. After a fourteen-year absence, the country returned for the Eurovision Song Contest 2011, with a respectable second place to Raphael Gualazzi and Madness of Love. Italy has won the contest twice (1964, 1990).
Along with Germany, France, Spain and the United Kingdom, Italy, is one of the Big 5 who are automatically allowed to participate in the final because they are the five biggest financial contributors to the European Broadcasting Union (EBU).
This year in Vienna, Il Volo was one of the favourites to win. They finished third, but the Italian group was first in the televoting.
Below you can watch Il Volo performing their song Grande Amore at this year's Eurovision Song Contest: