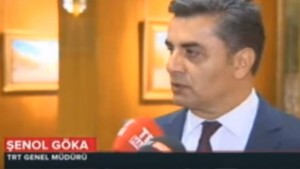 The fans waiting for a Turkish comeback to the Eurovision scene got the disappointing news the other day from broadcaster TRT that it is not going to happen in 2016. The past few years points towards a relationship between them and EBU which isn't particularly warm at the moment.
Turkey joined the Eurovision Song Contest in 1975, but after the contest in 2012 broadcaster TRT pulled out. Year after year Turkish fans were hoping for it to be a short break, and statements from less than a year ago gave hope to the many fans, but the other day came the official confirmation that the 2016 contest also will be held without Turkey taking part.
Timeline for the conflict between TRT and EBU
December 2012: After a few months with various contradicting messages, Turkish broadcaster TRT finally decided to pull Turkey out of the contest.
September 2013: TRT told the press that there would be a meeting in Istanbul, Turkey between TRT and EBU and that the outcome of that meeting would give the answer to whether or not the country would return to the contest for the 2014 edition.
November 2013: At the meeting between TRT and EBU, the broadcaster expressed their concern about the voting system, the big 5 system and the fact that EBU only had one person with Turkish origin working for them. They say they got an apology from EBU and both parts agreed to work on improving things making it possible for Turkey to return to the contest.
December 2014: A message on social media from the new president of TRT said that they are talking again and if all went well Turkey would return to the Eurovision Song Contest.
February 2015: TRT says that other countries were concerned as well, not just Turkey, and added that after discussions with EBU they feel satisfied that they have listened to their demands and as such Turkey can return. It unfortunately couldn't happen for the 2015 contest three months later as the deadline had passed.
November 2015: Turkish broadcaster decides not to participate in 2016 as EBU haven't yet implemented the changes they had promised to do.
TRT see no improvement
On Turkish TV president of TRT confirmed that they were in talk with EBU about changes, and they got the impression that they were coming, but now they see that EBU hasn't implemented them yet, and thus Turkey can't take part.
We demanded some changes to re-participate in the contest. It was cleared that there would be some adjustments, but we haven't seen any improvement yet. Under these circumstances we decided not to participate. We know we made some of you who want Turkey to participate again sad.
What exactly was promised to the Turkish broadcaster we don't know. From previous statements we know they in particular wanted changes made to the current voting system with 50/50 split between jury and televoting and the automatic final qualification of the Big 5 (Spain, Italy, Germany, France and United Kingdom). We also know that they demanded changes made to both parts, and that they feel they were promised something which would make them able to return to the contest. To that we can now add that they don't see these promises carried out yet and that this is the direct reason Turkey won't take part.
EBU don't deny
We asked EBU for a comment and got a reply in which they don't confirm the situation to be as described by Turkish broadcaster TRT, but equally interesting they don't deny it either.
We regret TRT's decision not to participate in 2016, and we very much hope they will consider returning in 2017. We don't think it's appropriate to go in to details about discussions between the EBU and its Member Broadcasters. Suffice to say it is up to the ESC Reference Group and the TV Committee, as representatives of all EBU Members, to decide about the way the Eurovision Song Contest is organised.
Naturally the European Broadcasting Union do not want to criticise its members, and that might be what we are seeing here again. We respect that they don't want to talk about the situation between TRT and them, but this also means that the accusations from the Turkish broadcaster stand unchallenged. All that can be concluded is that the Turks feel they were promised something which then never happened. From previous occasions we know that EBU is very protective of the Big 5 system and it is very unlikely that they will change that. If they did promise that to the Turkish broadcaster in the hope to lure them back to the contest, it is very bad behaviour from their side. But again, we don't know as they have gone into the "don't confirm – don't deny attitude". All we know is that Turkey feel they were promised so many changes that they felt quite comfortable that they could return – had those promises been kept.
Turkey at the Eurovision Song Contest
It was in 1975 Turkey first participated at the Eurovision Song Contest after Turkey had broadcast the contest from 1973. Right from the beginning Turkey's participation was put into discussion as Greece pulled out of the 1975 contest allegedly in protest against Turkey's invasion of Cyprus the year before. In 1976, Turkey then decided not to take part in protest against that Greece returned to the contest with a song about the Turkish invasion. Turkey didn't return to the Eurovision Song Contest before 1978.
The Turkish entries have scored quite mixed in the Eurovision Song Contest, but in average they did start to do better when televoting was introduced and in particular in the last ten years of their participation did the country get quite a lot of good placements.
In 2003 Turkey won the Eurovision Song Contest for the first time with Sertab Erener and her Everyway That I Can. After that the country got themselves a total of six top 10 placements, only failing to reach the final once, in 2011 where Yüksek Sadakat finished 13th in the semi-final.
Below you can see a clip from Turkish TV the other where the announcement came that Turkey won't participate in the 2016 Eurovision Song Contest (the clip is in Turkish):