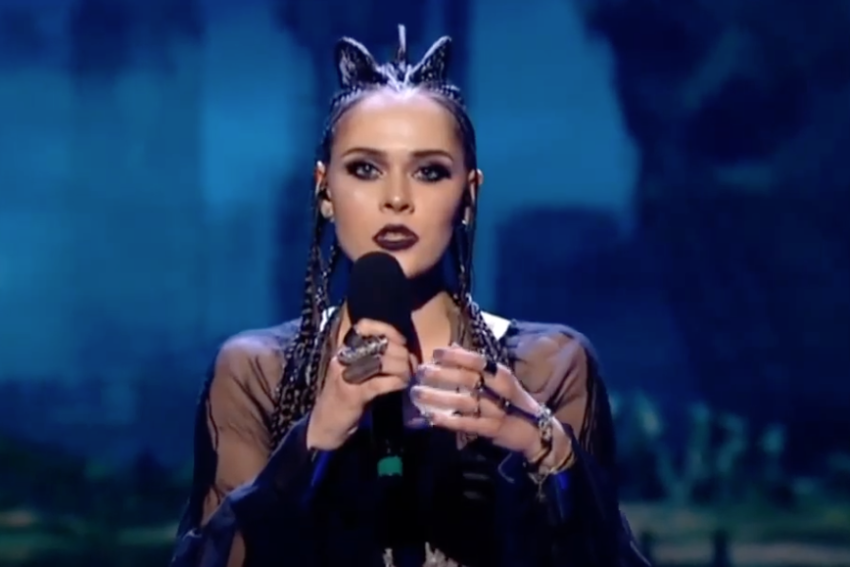 The Hardkiss were runners up to Jamala in the 2016 instalment of Ukrainian selection show Vidbir. Though Jamala went on to win Eurovision, we want to explore whether fans think The Hardkiss would have been a better, or less controversial choice to send to Eurovision?
The Hardkiss entered the Ukrainian national selection Vidbir in the first semi-final with their rock ballad Helpless. The song, written by front-woman Julia Sanina and lead guitarist (and husband) Val Bebko. Competing in the same semi-final as Jamala it was clear that the latter was the front-runner in the competition earning 49.22% of the vote with The Hardkiss coming 2nd with 16.03%. The Hardkiss' entry gained momentum by the final and was able to narrow the gap between themselves and the eventual winner but despite winning the jury vote, they lost out on the televote, earning 21.11% against Jamala's 37.77%.
In the final front-woman Julia Sanina swapped her gold headdress for a black dress with thick wire lights hanging out which were arranged around the stage, she was joined on stage with her husband Val along with fellow members Vitaly, Roman and Kreechy with one female backing singer.
Immediately after Jamala won Vidbir with 1944 there were calls for the entry to be banned due to it's political themes. However, the EBU investigation concluded that the song did not contain political messages and could continue to compete. The entry became more controversial as after it's Eurovision win it became known that 1944 won neither the jury or public vote, these were won by Australia and Russia respectively. When each vote was combined Ukraine had the highest score overall and was subsequently declared the winner.
Helpless – Opinions from fans
In order to find out what Eurovision fans today think of this song from the 2016 Ukrainian national final, we asked our Eurovision Fan Panel. It includes team members as well as fans from all over the world.
Inna S. – In 2016 Jamala beat The Hardkiss in our national selection. Even though I enjoy listening to 1944 I did not think it was suitable for a contest like Eurovision. I thought it would be too divisive and I thought that The Hardkiss song Helpless would have been more fitting. Jamala went on to win Eurovision which was amazing for Ukraine so I can't really complain.
Steinar M. – I like the idea. A powerful rock-ballad. But it should be more electric guitars, less strings. It's a tad too dramatic for me. I like the idea of an indie-ish Evanessence kind of power-ballad. But it's not rocky – or catchy enough – to really grab my attention. Not bad though, the anthemic chorus has it's quality.
I think 1944 is more original and better.
Michael R. – The Hardkiss would have to be one of my favourite bands from Ukraine, so I was beyond excited when they took part. I wasn't that thrilled with the song at the time, but it has grown to be a favourite in time. It's beautiful, eerie but pleasant and the chorus in Ukrainian is just pure heaven to listen to. It's unfortunate that it was up against Jamala because this would've won the selection in any other year.
Michael O. – I actually quite liked this one in 2016 and thought it would have been fine for Ukraine, but you knew Ruslana was all about Jamala, which as it turned out worked out fine. I'm surprised they didn't represent Ukraine the following year.
Charlotte J. – It's hard to argue that Ukraine should have chosen a different song as Jamala did win that year for them. Personally, I prefer Helpless to 1944, but it's not that I really love the song. I just don't like Jamala's entry. This one from The Hardkiss is way more interesting, and I kind of like it, just not more than like from me. 5/10.
Alexander S. – In 2016 the second position in the Ukrainian national final was The Hardkiss a band whose lead singer has an outlandish image. In my personal view the song is nothing interesting. It's a bit boring but I have to recognise the performance was very visual, however the song is too flat, not impressive to listen to.
Alvaro A. – This one is difficult for me. The bar it is really high when you have to compete with the winner of that year Eurovision Song Contest. In my opinion The Hardkiss' aesthetics in their performance makes me think about an apocalyptic post-punk scenario and the lead singer reminds me a little to Amy Lee from Evanescence. I think this song would have done well in the Grand Final. It would probably captivate the audience and also have a good chunk of the jury vote, but I think it would not have been enough to get a victory.
Ashleigh K. – I could barely contain my excitement in 2016 because Helpless and 1944 were such strong entries and I believed that whichever of these songs won had the potential to win Eurovision. At this time Ukraine hadn't sent a rock band to Eurovision and it would have been interesting to see. This was the first time I came across The Hardkiss and I thought that front woman Julia Sanina had amazing stage presence and a strong vocal. I do prefer the costume and performance from the semi-final as opposed to the final. Though the dress with the lighting cords was great to look at, it probably hindered her ability to move around the stage. Though I love Helpless, the band have released much better singles since and I would love to see them give Eurovision a try but they are probably 'too big' for that now.
Bernard D. – The Hardkiss with Helpless presents us a very Ukrainian song! Voice, style and modernity. A good song, pleasant to listen to. However, against the powerful Jamala it could not win.
Enjoy The Hardkiss' performance from the 2016 Vidbir in the embedded video. Below the video, you can read more about them.
The Hardkiss – a mini biography
The Hardkiss were formed in 2011 by lead singer Julia Sanina and husband Val Bebko who was formerly a producer for MTV Ukraine. At the start of their career the band described themselves as 'progressive rock' and experimented with their style. They gained national recognition in 2013 with their song Make-Up where the band won awards as the Best New Act along with Best Video. As their career progressed, the band developed a stronger rock sound.
As quite natural for a band it was the front-woman who gained the most popularity. Julia went on to become a judge on The X Factor Ukraine and is currently a contestant on Ukraine's 'Dancing With The Stars'. She regularly uploads vlogs for her fans particularly when filming new videos or when the band are on tour. Late 2019 Julia released a special collaboration with Ukraine's 2006 entrant Tina Karol, their duet Vilna (free) was the lead single from the soundtrack from the high budget Ukrainian drama film Vidanna.
The Hardkiss are currently gearing up for a special one-off concert at the Olympic Stadium in Kyiv in 2021 to celebrate their 10 year anniversary as a band.