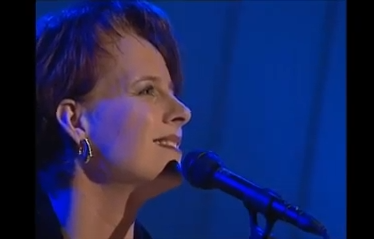 Denmark didn't do well at the 1997 Eurovision Song Contest, but did the country have a better alternative to Kølig Kaj? Jette Torp, who finished second in the national final, could perhaps have been one such one.
The 1997 Danish national Melodi Grand Prix final was held on the 1st of March. 10 acts competed to represent Denmark at the Eurovision Song Contest. It was a race between two songs: Kølig Kaj's Stemmen I Mit Liv and Jette Torp's Utopia. Rap or a ballad? With 31.5% of the votes, Kølig Kaj's rap song won. Jette Torp finished second with 29.4%.
Let's be honest, none of the songs from Dansk Melodi Grand Prix in 1997 became hits. Today, 23 years later, it's only hardcore fans who knows any of the other songs than the Eurovision entry. We change that now as we put focus on Jette's Torp runner up.
Utopia – opinions from fans
In order to find out what Eurovision fans today think of this song from the 1997 Danish national final, we asked our Eurovision Fan Panel. It includes team members as well as fans from all over the world.
🇩🇰 Charlotte J. – As a Dane, I of course watched, and do remember all the songs from our national final that year. In my opinion, Jette Torp should have won. I also believe, she would have gained a lot better result. Not really a ballad person, but Utopia is an exception. Vocally she is strong, and the slow build up of the song to the powerful ending really captures me. Denmark would have finished in top 10 at the Eurovision Song Contest with this song, and with a bit of luck in top 5 too.
🇨🇿 Josef Š. – This ballad is simply perfect. Very suitable for Eurovision for sure, especially with those chords in the song and key change. So far I never went that far back in listening to national final entries and I think I made a mistake as this song is really good. Compared to the Danish entry from Eurovision 1997, I think Denmark made a bad choice. Jette would have been so much better. I would rather go with the classic choice than with the modern one.
🇨🇴 🇫🇮 Alvaro S. – I liked the intimate environment that this song gives through the performance and that Jette's voice has the main role while the instruments are just supporting her emotional performance. It sounds really beautiful. For my personal taste, Utopia would have been a better song. The actual entry from Denmark in 1997 did not pass the test of time and now it sounds like a joke entry.
🇩🇪 Andrew G. – This was the true winner for myself at Dansk Melodi Grand Prix 97. Solid charm and determined vocals with an excellent orchestra carrying the song with Jette. The perfect combination. I am sure with this song they would have placed higher for Denmark at Eurovision than 16th in 1997. Either way we will always have a classic 2nd place to enjoy over and over again.
🇩🇰 Tina M. – A very beautiful and melodic song that fully portrays Jette's beautiful vocals. The performance is very strong, and shows how simply a song can be performed while still being impressive. How Kølig Kaj could win over this very beautiful song is still a mystery to me. I want to give this little Danish masterpiece 9/10.
🇬🇧 Ashleigh K. – Oh dear… What a choice Denmark had on their hands in 1997. Talk about picking the best of a bad bunch.. Unfortunately I was bored half way through Jette Torp's Utopia… I don't particularly like Stemmen I Mit Liv either but at least it is memorable and I could listen to it all of the way through without falling to sleep.
🇳🇴 Robert I. – This is the first time I hear this song. And probably also the last. It doesn't give me anything. It's not a song that I would like to play again.
🇩🇰 Liza P. – I do admire Jette Torp a lot, because I think she has a great voice, which have been proved on other occasions. I also like Utopia very much – also more than the Danish winner that year. However, I somehow miss something in the song. It seems a bit flat, which is sad, because Jette's voice could easily carry heavier tones.
And though I prefer this song to the winning song, I'm not sure it would have done much better in the ESC. Comparing to the result of similar songs from that year, I don't think it would have made a difference.
🇬🇧  Michael O. – Well considering what won the Danish Grand Prix 1997, you would have expected the others to be truly awful, but in fact this is a pleasant if dreary enough ballad which probably would have equalled the position Denmark received at Eurovision 1997. Jill Johnson was clearly watching and ironed out the flaws and came back with a revamped better version for Sweden the following year.
🇨🇾 Elena T. – I am not a great fan of the song to be honest and I couldn't wait for it to end. There is something interesting about it but it doesn't do anything for me. Really sorry Denmark!
🇬🇧  Paul G. – I love a ballad but unfortunately this one is bland and boring. Totally unemotional. The question is was it better than the one the Danes sent to Dublin???? My answer is no and that's saying something!!!
Enjoy Jette Torp's performance from the 1997 Dansk Melodi Grand Prix in the embedded video. Below the video, you can read more about her.
Jette Torp – a mini biography
Born in 1964, Jette Torp was in her late 20's when she got her breakthrough. She is educated in music pedagogy in 1988. Four years later, the Danes got to know her in a show together with with actor and comedian Finn Nørbygaard. As she pursued her own path in the following years, she continued working together with Finn in the coming years. Their 1994 show 'Musik & Fis' became a massive success and was put up 170 times across the country.
She took part in the Danish final in 1997, and came second with the song Utopia. That gave her the courage to continue solo, and in 1998 her debut album Here I Am was released. The album went number one on the Danish charts, and she received platinum for it. Her second album What If I Do, released in 1999 sold gold. Jette Torp had found her place in the Danish music industry.
From 1998 to 2009, Jette Torp released a total of eight albums. Six in English and two in Danish. She is still an active entertainer though no albums have been released since. Over the years, she have mastered various genres like pop, jazz, swing, blues and rock.