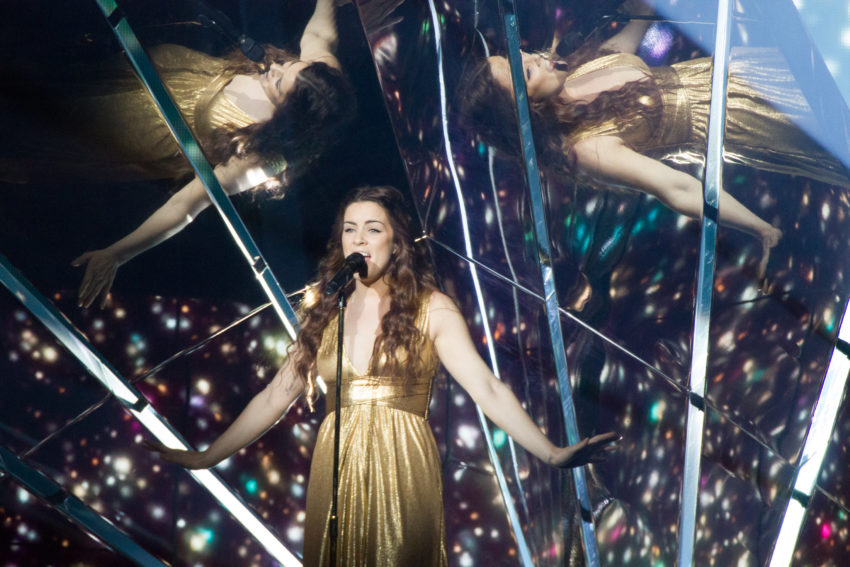 Today marks 21 years since a UK Eurovision entry topped the UK singles charts. With many of this year's entries consistently charting well within their own countries, we take a look at how the UK's entries have fared in their own singles chart.
It has been a long time since a UK Eurovision entry has reached the top of the UK singles charts. Today marks the anniversary of when Gina G shot to the number one spot after she performed Ooh Ah Just A Little Bit in Norway. Many non Eurovision fans would be forgiven for thinking that she won the contest due to the popularity of the song following the contest (I have corrected many of my friends on this matter). But as most Eurovision fans might know she came in 8th place.
This is a far cry from the entry position of this year's act. Although providing Europe with a stunning performance of I Will Never Give Up On You, Lucie Jones has entered the UK chart at a disappointing 73rd place despite coming in 15th position in the Grand Final only last week. Let's hope that she will be able to climb her way up.
In comparison some of her competitors including Blanche, Salvador Sobral and Fransesco Gabbani topped their own countries charts with many other competitors peaking in the top 5.
Since 1997 very few of the UK Eurovision entries have made it within the top 10 of the UK singles charts. Despite returning after a hiatus, British boyband Blue being a well established boy band with many fans they only managed to peak in at No 16.
Let's have a look at some of the other UK Eurovision entry singles and how their chart position compared to their Eurovision placing.
| | | |
| --- | --- | --- |
| Act/Song | Grand Final Position | UK Chart Position (Peak) |
| Katrina & The Waves – Love Shine A Light (1997) | 1 | 3 |
| Imaani – Where Are You? (1998) | 2 | 15 |
| Precious – Say It Again (1999) | 12 | 6 |
| Jessica Garlick – Come Back (2002) | 3 | 13 |
| Jemini – Cry Baby (2003) | 26 | 15 |
| Javine – Touch My Fire (2005) | 18 | 18 |
| Daz Sampson –Teenage Life (2006) | 19 | 8 |
| Scooch – Flying The Flag (for you) (2007) | 22 | 5 |
| Andy Abraham – Even If (2008) | 23 | 67 |
| Jade Ewan – It's My Time (2009) | 5 | 27 |
| Bonnie Tyler – Believe In Me (2013) | 19 | 93 |
| Electro Velvet – Still In Love With You (2015) | 24 | 114 |
| Joe and Jake – You're Not Alone (2016) | 24 | 81 |