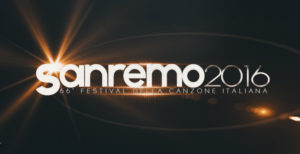 The third night of the Italian music Festival Di Sanremo will be held today at Teatro Ariston. Today, all 20 Campioni participants will take the stage to perform covers of Italian songs. The winner will be given a special prize.
Sanremo music festival continues today with cover night. All of the 20 Campioni artists will sing covers of Italian songs of their choice. The winning cover version will be determined over two rounds of voting. In the first round, the covers will initially compete in five groups consisting of four entries each. The winning cover for each group will qualify to the second round where the winner will be determined.The best cover, as chosen by an equal combination of votes from a press jury and a public televotes, will be awarded a prize.
The covers that the artists will perform today are:
Annalisa – America (Gianna Nannini)
Arisa – Cuore (Rita Pavone)
Alessio Bernabei – A mano a mano (Riccardo Cocciante)
Clementino – Don Raffaè (Fabrizio De André)
Dear Jack – Un bacio a mezzanotte (Quartetto Cetra)
Dolcenera – Amore disperato (Nada)
Elio e le Storie Tese – Quinto ripensamento (Walter Murphy)
Irene Fornaciari – Se perdo anche te (Gianni Morandi)
Lorenzo Fragola – La donna cannone (Francesco De Gregori)
Rocco Hunt – Tu vuò fà l'americano (Renato Carosone)
Deborah Iurato e Giovanni Caccamo – Amore senza fine (Pino Daniele)
Francesca Michielin – Il mio canto libero (Lucio Battisti)
Bluvertigo – La lontananza (Domenico Modugno)
Neffa – O sarracino (Renato Carosone)
Noemi – Dedicato (Loredana Bertè)
Patty Pravo – Tutt'al più (Patty Pravo)
Enrico Ruggeri – A' canzuncella (Alunni del Sole)
Valerio Scanu – Io vivrò (senza te) (Lucio Battisti)
Stadio – La sera dei miracoli (Lucio Dalla)
Zero Assoluto – Goldrake (Actarus)
It'll be interesting to see tonight if any of the contestants will invite other Italian or foreign singers to perform the covers with them as it is allowed to do so in tonight's show.
Of course Carlo Conti along with Virginia Raffaele, Mădălina Diana Ghenea and Gabriel Garko will host the 3rd night of Sanremo 2016. RAI must be very satisfied as Sanremo 2016 continues to gather high ratings. Yesterday's show had a 49,91% share, even bigger from the 1st night. Patty Pravo was the most watched with over 14 million viewers. Clementino. Michielin and Dolcenera also did well by reaching over 13 million, Scanu, Bernabei and Elio did over 12 million while Neffa got just over 10, Zero Assoluto a bit over 8 and Annalisa just under 8 million.
Today the Nuove Proposte competition continues with the last 4 contestants who will compete in 2 duels just as yesterday. The 2 winners will proceed to tomorrow's show. A combination of public voting (50%) and votes from the press jury (50%) will determine the winners.
Guests for tonight are Pooh, Hozier and the actors Enrico Brignano and Guglielmo Scilla. Sanremo 2016 starts at 20.30 CET and you can watch it live on the Sanremo official site.
In just two nights, we'll find out who will be the next Italian representative in the Eurovision Song Contest, The winner of Sanremo will be offered to represent the nation at Eurovision. If the winner doesn't wish to represent Italy in the Eurovision Song Contest, Rai will select another artist who took part in the Campioni division of Sanremo.
The remaining schedule of Sanremo 2016 is as follow:
Serata 3: February 11th (Thursday)
Serata 4: February 12th (Friday)
Serata 5: FINALE – February 13th (Saturday)
Enjoy our compilation of the last 5 years of Italy in the Eurovision Song Contest as we wait patiently for tonight's 3rd show of Sanremo 2016.