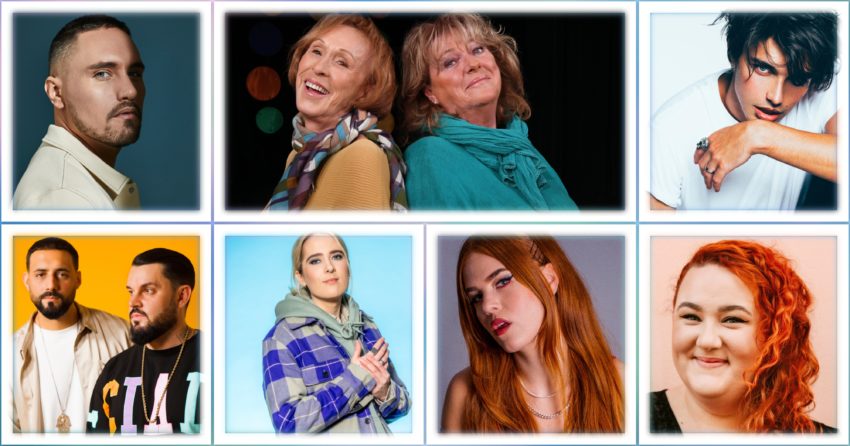 This heat in Melodifestivalen offers a bit of everything. A good mix of many well established names and a some upcoming talents too. Here's a closer look at the participants in Sweden's second heat of Melodifestivalen 2021.
Last Saturday, we saw the opening of the Swedish national selection; Melodifestivalen. Danny Saucedo and 1993 Eurovision participants Arvingarna qualified directly for the final. Paul Rey and Lillasyster earned themselves a spot in the second chance heat. 2003 Eurovision participant Jessica Anderson however came in 5th, and thus is out of the race to represent Sweden at the 2021 Eurovision Song Contest.
Tomorrow, another seven acts are ready to fight for their rights to still become this year's winner. Here's a closer look at the seven acts competing in Melodifestivalen 2021's second heat:
Anton Ewald – New Religion
(Songwriters: Jonas Wallin, Joe Killington, Anton Ewald, Maja Strömstedt)
27-year-old Anton Kim Ewald started his Melodifestivalen career already back in 2009 – as a dancer. In 2012, he was also on as dancer and choreographer. In 2013 however, he first took part as a singer with the song Begging. The release of that single sold extremely well, and earned him 3x Platinum. His 2014 entry Natural sold to Gold status. Anton has co-written this entry himself.
Julia Alfrida – Rich
(Songwriters: Julia Alfrida, Jimmy Jansson, Melanie Wehbe)
For 25-year-old Julia Alfrida Ridderdal, the Melodifestivalen participation is a part of what she describes as her 'coming out journey'. She released her debut single Sweet Escape in 2018. In 2019, it was followed up by the single Her, with which she performed at Pride in both Stockholm and Copenhagen. She has been given a wildcard to participate in Melodifestivalen 2021 after her participation in P4 Nästa with the song Dark Doom last year. Julia has co-written this 2021 entry herself.
WAHL feat. SAMI – 90-talet
(Songwriters: Sami Rekick, Christopher Wahlberg, Josefin Glenmark, Jesper Welander, Andreas Larsson)
If you have heard of the duo SödraSidan, you'll know WAHL. He was one half of that duo until he decided to go solo tqo years ago and debuted with the single Få Som Vet. A part of that solo career is his participation in Melodifestivalen 2021. He is one of the songwriters behind this song 90-talet. Another one is Sami Rekik who also joins him on stage. Sami is of Tunisian origin and was actually a football player before be moved to Sweden. In 2003, he formed the hip-hop/rap duo Medina together with Alibi.
Frida Green – The Silence
(Songwriters: Anna Bergendahl, Bobby Ljunggren, David Lindgren Zacharias, Joy Deb)
In 2019, What Would Greta Do? was released. It's a tribute song to environmental activist Greta Thunberg. Behind this single we find now 28-year-old Frida Green. She took part in the Swedish version of Got Talent in 2018 and after a few releases, she is now ready for her potential biggest audience ever. Behind this song, we find well known experienced songwriters, one of them being the Swedish 2010 Eurovision participant Anna Bergendahl.
Eva Rydberg and Ewa Roos – Rena Rama Ding Dong
(Songwriters: Göran Sparrdal, Kalle Rydberg, Ari Lehtonen)
Two ladies with an enormous experience. 77-year-old Eva Rydberg and 71-year-old Ewa Ross joins forces on this entry. Both are singers and actresses with careers taking off in the 1960s. Whatever few words we write here, won't be able to just partly describe their experiences. Both have won several awards throughout their long career, and to do this in their age really deserve respect.
Patrik Jean – Tears Run Dry
(Songwriters: Herman Gardarfve, Patrik Jean, Melanie Wehbe)
30-year-old Jean Patrik Olsson is a singer, songwriter and record producer. He has his own label simply called Patrik Jean. Over the years, he has worked together with many well known artists and also released a few singles himself. His first single Feel Good was released in 2013. In 2020, he was one of the songwriters behind The Mamas winning entry Move. This year, he will for the first time be on the stage himself as an artist.
Dotter – Little Tot
(Songwriters: Johanna "Dotter" Jansson, Dino Medanhodzic)
While the name Johanna Maria Jansson might not ring a bell with many, her stage name Dotter will. She was close to win Melodifestivalen last year. With the song Bulletproof, the 33-year-old singer and songwriter finished just one point behind The Mamas. She has written several songs for other artists in Melodifestivalen, but Dotter first participated as a singer in 2018 where she however didn't manage to advance from her preliminary heat.