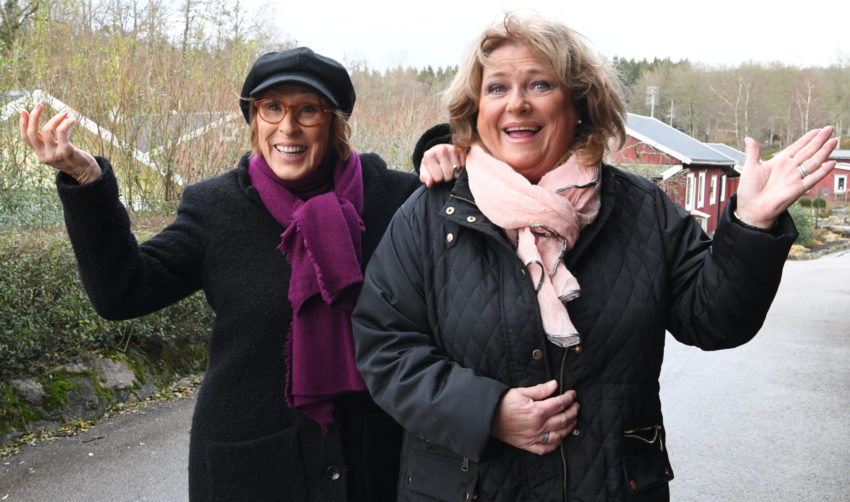 Go on, admit it, when you saw the list of artists in this year's Melodifestivalen finals, you thought Eva Rydberg & Ewa Roos and Rena Rama Ding Dong was going to make an early exit.
That's fine, the ladies themselves told EuroVisionary, that they too were surprised that they have reached the Andra Chasen rounds. The thing is though, now the comedic routine and catchy tune, has  lots of fans routeing for them, and they could make it to the final, on March 13, 2021.
Eva and Ewa told us that they DID not expect to make the Andra Chasen round and have been overwhelmed, by the reaction to the song. On reflection though it should not have come as a surprise, as the ladies have worked together a long time and know how to work an audience, even if only remotely.
It may be rude to reveal a ladies age, but Eva is a sprightly 77 year old, who has entertained Swedes since the sixties, gaining many accolades for her masterful subtle comedy. Ewa, six years younger is better known for her singing and acting, but has also performed in many revues with Eva, going back to their first performance together in 1969.
Incase you're wondering what the ladies were saying to each other in the middle of the song's performance, Eva was telling Ewa she was in the wrong place, and to get out of her way. They have no plans to change the staging for the Andra Chasen performance.
Asked about their chances of being chosen as Sweden's entry this year, they responded
Omg… We can't even see that coming. Hahaha! We first have to make it to the Swedish final. Eva has worked in The Netherlands before. Ewa has never been there.
Finally, both gals cite Waterloo as their favourite ever Eurovision memory, and for both of them their best memories so far about their career, has been working together and how much fun they've had on stage.
The ladies wish all their fans a, Hej då från Eva & Ewa, and hope you'll vote for them on Saturday.
OK ready, Ding Dong Ding Dong, Rena Rama Ding Dong