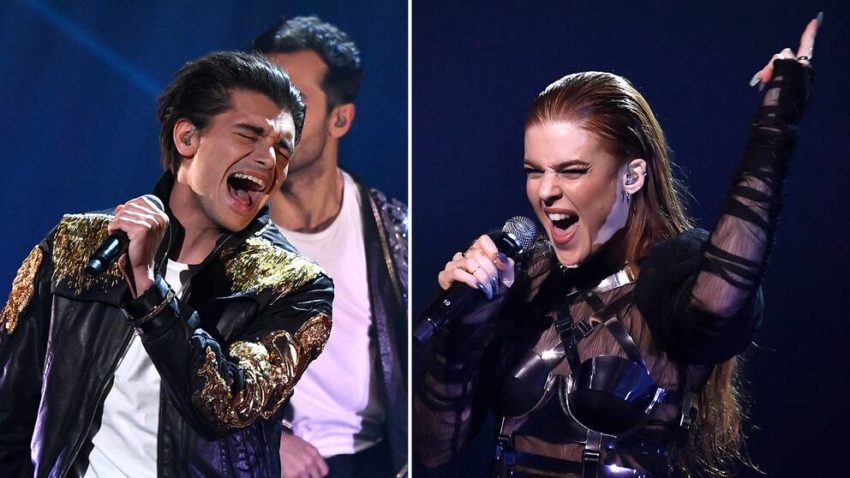 Tonight, Sweden kicked off for yet another exciting national selection heat. Melodifestivalen attracts fans from all over the world, and with quite a mixed line up, tonight's second heat probably was no exception.
Last Saturday, Sweden started their 2021 Melodifestivalen journey. The first heat featured not just one, but two former Eurovision participants. One of them; Arvingarna (Sweden 1993) qualified directly to the final together with Danny Saucedo. 2003 Eurovision participant Jessica Anderson placed fifth and as such, there will be no Eurovision comeback from her this year.
No Eurovision participants took part in this second heat, but that didn't make the line-up less interesting. This show offered a bit of everything, and yes, most should be able to find something they really like – but also something they don't understand. That's the variation you get in a country like Sweden with a total of 28 acts taking part.
In case you don't know all of tonight's seven acts that well, we've published a Get to know- article for you to get more familiar with them.
The result of Melodifestivalen 2021 – second heat
Seven acts took part and for four of them, their journey doesn't end here. The task for the Swedish population tonight was quite simple: First select five acts to the second round. Then vote again, and now send two straight to the final and another two to Second Chance round.
| | | |
| --- | --- | --- |
| Act | Song title | Placement |
| Dotter | Little Tot | To the final |
| Anton Ewald | New Religion | To the final |
| Frida Green | The Silence | To Second Chance round |
| Eva Rydberg & Ewa Roos | Rena Rama Ding Dong | To Second Chance round |
| Patrik Jean | Tears Run Dry | 5th place |
| Julia Alfrida | Rich | 6th-7th place |
| WAHL feat. SAMI | 90-talet | 6th-7th place |
The show
Just like in most other countries, the Swedish shows are held without an audience. The shows won't be held in various parts of the country either as this time, all shows take place from the smaller arena Annexet in Stockholm.
At 20:00 CET the show kicked off. The show producer and former Eurovision participants Christer Björkman (Sweden 1992) hosted the show this time with a bit of help from Anis Don Demina and Oscar Zia. Oscar Zia and Anis Don Demina opened the show performing Stad i Ljus.
After the first performance Oscar and Anis started their sketch called "Star tour: Melo Edition" where they drive through Stockholm on a Melodifestivalen tour. Siw Malqvist, who won Melodifestivalen 1961 with the song April, April, made a cameo. Malqvist did not represent Sweden in Eurovision and was later replaced by Lill-Babs. After the fifth act, Oscar and Anis continued their tour. This time they met Nanne Grönvall and sung her 2005 Melodifestivalen song Håll Om Mig, and Robing Bengtsson who taught the guys the choreography for his Eurovision song I Can't Go On. The sketch finished after the performance.
Before the first elimination we had a short history mockumentary hosted by Herman Lindqvist about the Swedish "Queens" Carola, Lena Philipsson, Charlotte Perrelli and Loreen. Oscar Zia and Anis Don Demina cheered the audience with an acoustic comedy performance after the first elimination took place.
Sweden at the Eurovision Song Contest
With two wins within the past eight years, Sweden is catching up on Ireland's record with seven Eurovision victories. Sweden is now only one down.
Since the introduction of semi-finals in 2004, Sweden only failed to reach the final once. By a coincidence that was in 2010 where Anna Bergendahl's This Is My Life finished 11th in the final, and where Denmark came 4th in the final with a song rejected for the Swedish selection!
Since 2014, things however have been extremely impressive with only finishing outside top 5 once in this period. First Sanna Nielsen came third in 2014, then Måns Zelmerlöw won in '15 and finally Frans, Robin Bengtsson and John Lundvik finished 5th. Sweden's only none top 5 result was a 7th place achieved by Benjamin Ingrosso.