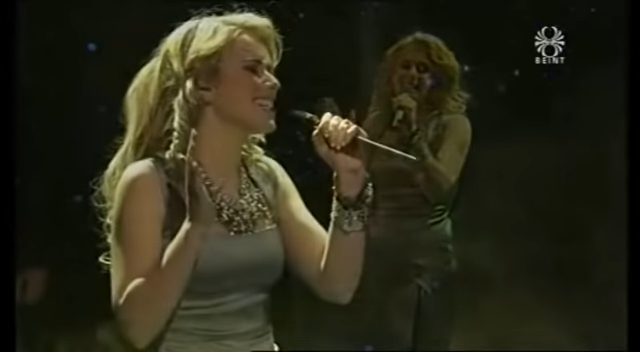 After her second place in 2009, Iceland's Yohanna's aimed at a Eurovision comeback in 2011. 9 years later, some Eurovision fans prefer Nótt while others think Iceland made the right choice in picking Sjonni's Friends with Coming Home for Eurovision.

Yohanna is not a newbie at Eurovision, having competed already in 2009 with her song Is It True and taking the imaginary silver trophy for her 2nd place in Moscow. She quickly became a fan favourite, so it was no surprise that she wanted to try her luck again and maybe finally win Eurovision. The first time she tried after her huge success was two years later in 2011.
The song with which Yohanna took part in Söngvakeppni Sjónvarpsins 2011 was Nótt and sung in Icelandic. It's an intimate ballad with a powerful chorus and a climate full of high notes and feelings. All the things Yohanna can do best, as we know from 2009 already. The song also has it's English version which is called Slow Down. Yohanna advanced from the second semifinal to the grand final, but there she did not manage to win hearts if the Icelandic public. She ended up among the losers from 3rd to 7th place, where the exact televote results were not revealed. The winning trophy went to Sjonni's Friends and their song Coming Home, which had an extra emotional background as its original artist, Sigurjón Brink, passed away shortly before the national selection. So his friends from the musical industry formed a tribute band and, after winning the national selection, represented Iceland at Eurovision 2011 in Düsseldorf in Germany.
Nótt – opinions from fans
In order to find out what Eurovision fans today think of this Icelandic song from Söngvakeppni Sjónvarpsins 2011, we asked our Eurovision Fan Panel. It includes team members as well as fans from all over the world.
🇬🇧 Paul G. – OMG I love this song and it was my favourite to win in Iceland in 2011. Such a beautiful song. I bought the English version of it and it is now still one of my most played songs. If this had gone to Dusseldorf I think this would have given Azerbaijan a major hurdle in winning.
🇮🇸 Laufey G. – I was not a particular fan of Nótt back in Söngvakeppnin 2011. I was a big fan of the entry that came second that year, Ég trúi á betra líf, with another big pop-star here in Iceland called Magni. Actually, I wasn't too keen on Yohanna's entry that came second in Eurovision 2009. Although, both songs, Nótt and Is it true, have really grown on me these last several years, having seen them performed by Yohanna in various concerts. She is truly one of the greatest singers Iceland has had and does a 100% performance each time she comes on stage.
🇨🇴 🇫🇮 Alvaro S. – It would have been well received from fans like me if Yohanna would have represented her country with this entry and if she kept the Icelandic lyrics. I think that here, what made the difference was that Sjonni's Friends have this feel good, authentic sweetness and the atmosphere of a band of friends coming together to do some music – and remembering their friend who passed away – that I imagined made the audience want to cheer with them.
🇬🇧 Michael O. – I was so disappointed that Iceland did not choose this. While maybe not as good as Is It True, this was a well sung, beautiful melody. Looks like the time has passed now for Yohanna at Eurovision.
🇩🇰 Liza P. – Contrary to Is it true, I loved Nótt / Slow down from the first time I heard it. And I find it just as beautiful as Is it true. Because it really shows how great Yohanna's voice is and the range it has. Though only two years after her ESC success I find it too soon to go for the gold with the same style. But I still hope that she returns to ESC and wins. I do prefer Nótt over Coming home, but I understand the emotional background for the winning song. And on a personal note, it did give me a chance to reunite with Gunnar from Two Tricky (Iceland 2001) and meet Bjarni Arason, who has sung one of my favourite Icelandic preselection songs Karen.
🇷🇸 Milosav T. – This is the first time I heard this song, but it will probably also be the last. Yohanna is cute as a button, and she sure can sing, but this song does not do much for me. The melody is nice and everything, but it's just your ordinary mid tempo song, like hundreds that you have heard before. I don't feel bad about not having this at ESC, since I don't think it would make too much of an impact. 2 out of 5 stars!
🇨🇿 Josef Š. – I was a big fan of Yohanna back in 2009 and I still love her songs. Is It True is still one of my most favourite Eurovision songs from Iceland and Nótt (or its English version Slow Down) is one of my favourites from Icelandic national selections. The song is exactly what I want from a Eurovision song. It has emotions, it's well sung and plus points if it would stay in Icelandic. Oh and Yohanna is a really pretty woman, so that's for another bonus points. Overall, clear winner to me. I hope she'll be back one day. Comparing Nótt with Coming Home, I think Yohanna would be better at Eurovision, even though Sjonni's Friends did a good job in Düsseldorf.
🇩🇰 Charlotte J. – I really like this one, and in particular the second half of the song is extremely powerful and captivating. It's not as strong as her 2009 Eurovision entry though. Would she have done better at Eurovision than Sjonni's Friends and their Coming Home? Probably. But if I would have wanted her to represent Iceland instead of them that's another thing. I loved Sjonni's Friends. They had a fantastic emotional story, the song was catchy, and I still remember their very entertaining press conferences at the Eurovision Song Contest in Düsseldorf. So, yes, for Iceland, she would have been the better choice in terms of result, and though, I like the song, I am glad we had Sjonni's Friends at Eurovision.
🇳🇴 Robert I. – This is the first time I hear this beautiful song. It catches my attention, and Yohanna is a really good singer.
🇷🇴 Doina A. – I just watched Yohanna singing Nòtt. A nice, fair presence Yohanna! The song is sparkle, a fresh flow of notes. Yohanna has a special voice and the Sigurjon's Friend band accompanies her musically so close! A beautiful piece of music, pleasant to listen by musical accords – Nòtt sang by Yohanna. Well, she advanced to the final of Icelandic Contest, she didn't win, but, in my opinion, is worth listening to.
🇬🇧 Ashleigh K. – This is a tough one because even though I preferred Yohanna's song, I don't think it is a memorable as her 2009 entry Is it true? and I'd rather see her come back to Eurovision with a stomper of a song than with a generic ballad. That being said, Yohanna would have finished higher than Sjonni's Friends 20th place.
Enjoy Yohanna's national final performance from Söngvakeppni Sjónvarpsins 2011 in the embedded video. Below the video, you can read more about her.
Yohanna – a mini biography
Jóhanna Guðrún Jónsdóttir, or Yohanna as she is more commonly known outside her native Iceland was, born in Copenhagen, Denmark on the 16th of October, 1990. She moved back to her native Iceland whilst still very young, and was raised in the western coastal town of Hafnarfjörður. Already from the tender age of 9, this budding young artist had ambitions of making it into the recording industry, releasing her first album at the age of 8. Her breakthrough came when she represented Iceland at the 2009 Eurovision Song Contest in Moscow, bringing the saga nation their best ever result, a highly respectable 2nd place. The success of Is It True? also ushered the swift re-release of her debut adult album Butterflies and Elvis (previously released in 2008), including Is It True? as a bonus track in order to cash in on her success.
Since her Eurovision appearance, Jóhanna has become a much sought after artist in Eurovision circles, performing in countries such as Norway, Sweden and Turkey. Her first experience at representing Iceland gave her food for thought, as she attempted once more to represent Iceland in 2011 with the song Nótt (Night). Nótt was chosen to represent Iceland in online competition OGAE Second Chance Contest 2011, where non successful entries from Eurovision national finals take part. There Yohanna was more lucky and won this fan contest. After that, she tried to represent Iceland again in 2013 with the song Þú, that was written by Davíð Sigurgeirsson, who married Yohanna in 2018 and they have a daughter (born 2015) and a son (born 2019). Third time wasn't lucky either, as Yohanna did not qualify from her semifinal of Söngvakeppnin 2013.