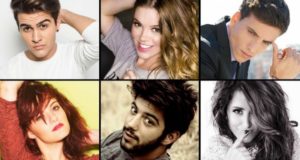 The Spanish broadcaster RTVE has revealed the titles of the 6 songs that are taking part in their national final, and a 30-sec snippet of each song. The Spanish national final will take place on 1st of February.
The six Spanish candidates were internally chosen by RTVE to compete in a live final show, called "¡Objetivo Eurovisión!", which will take place on February 1st and the host will be Anne Igartiburu. The full songs will be released tomorrow evening (17.00 CET), during a special show that will be broadcasted on rtve.es. The public through televoting and two professional juries (national and international) will choose the Spanish representative for Stockholm. This will be the first time the Spanish broadcaster will incorporate an international jury tor help them to pick their song (Belgium also did so in their final on Sunday)
The six acts which will compete to represent Spain in Eurovision are (you can listen the snippet by clicking the name of the artist or their song titles) :
On the list there is one song which has already been published in full, a couple of months ago. La vida solo es una by Maria Isabel.
You can read more about the six national finalists in Spain in our previous article.
Spain in the Eurovision Song Contest
Spain has participated in the Eurovision Song Contest 55 times since making its debut in 1961 when they finished ninth. Since 1999, Spain has been one of the 'Big Five', along with France, Germany, Italy and the United Kingdom, which are automatically allowed to participate in the final because they are the five biggest financial contributors to the European Broadcasting Union.
Spain has won the contest twice, first in 1968 with the song La,La, La, sung by Massiel, and again in 1969 when Salomé's Vivo Cantando was involved in a four-way tie with the United Kingdom, France and the Netherlands. The 1969 contest in Madrid is the only time Spain has hosted the event since lots were drawn after 1969's four-way tie and the 1970 contest was hosted by the Netherlands. Spain has also finished second in the contest four times: in 1971, in 1973, in 1979 and, more recently, with Anabel Conde in 1995. The country finished last four times: in 1962, 1965, 1983 and in 1999.
In recent years, Spain has had less success, failing to reach the top 10 in nine of the last eleven contests (2005–2015); the exceptions were Pastora Soler, who was tenth in 2012, and Ruth Lorenzo, who also finished tenth in 2014.
In Vienna, Spain participated in the contest with the song Amanecer, performed by Edurne, who was selected internally by TVE. Despite being one of the favourites, the Spanish song finished in twenty-first place out of 27 competing songs in the Grand Final.
Below you can watch Edurne performing this year's Spanish entry Amanecer: