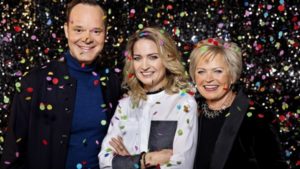 When Denmark on the 13th of February have their national final, Melodi Grand Prix, it will be with three hosts. An experienced male TV host will be joined by mother and daughter who both previously have participated several times in the contest.
Today Danish broadcaster revealed the three hosts for the Danish national final, Melodi Grand Prix 2016. The show will be hosted by Jacob Riising, an experienced DR TV host who also was in front of the show in 2014 and 2015, and previously also hosted the Danish junior show for several years. This year Jacob will be joined on stage by two females who have previously taken part in the contest, and who happens to be mother and daughter; Annette Heick and Hilda Heick.
Daughter Annette, aged 44, is a singer, actress and journalist who took part in the contest in 1991 and in 2007. The latter titled Copenhagen Airport became a hit among Eurovision fans, but didn't manage to make it to be best half. That song you can hear below.
Mother Hilda, aged 69, who will be in charge of green room this year, took part together with her husband, Keld Heick, in 1986, 1987, 1989 and in 1992. Her husband however has written several Danish national final winners and as such has taken part in Eurovision on several occasions. In the video below you can see their 1989 entry Sommerregn which finished 7th in the Danish final.
The Danish Melodi Grand Prix final takes place on the 13th of February 2016 from the Jutlandic city of Horsens. 10 acts have already been selected to battle it out. As usual the winner will represent Denmark at the Eurovision Song Contest.