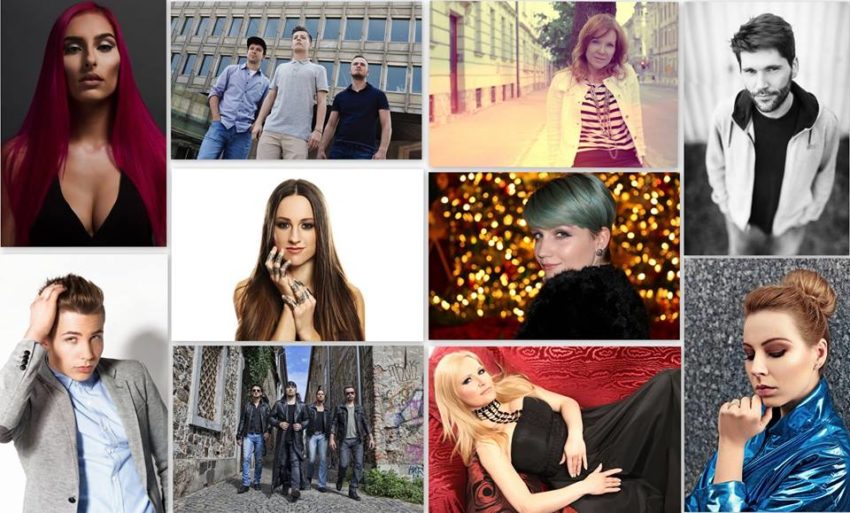 During a press conference held by the Slovenian public radio-television station RTVSLO, the entries that will compete for the right to wave the Slovenian flag in Stockholm have been revealed. The final will take place on February 27th in Ljubljana.
The Slovenian Broadcaster RTV Slovenija published the list with the ten artists who will compete for the ticket to Stockholm in a press conferencethat held today. Nuša Derenda, who represented Slovenia at the 2001 Eurovision Song Contest, and Regina who represented the country in 1996 are among the ten contestants of EMA.
Highlight of the press conference was Maraaya's performance of their song Here For You, last year's Slovenian entry in the contest. Maraaya also performed together with Lina who sang Prva Ljubezen, her 2015 Junior Eurovision Song Contest entry.
The line-up for this year's EMA is as follows:
Anja Baš
Anja Kotar
D Base
Manuella
Nuša Derenda
Raiven
Regina
San Di Ego
Sebastian Lukovnjak
Žan Serčič
These ten artists were chosen by a jury consisting of: Alenka Godec (singer), Gaber Radojević (music producer), Jernej Vene (editor) and Aleksander Radić (Head of Delegation).
Slovenia is the 6th country at the moment that will select its entry on the 27th of February, after Finland, Norway, Hungary, Moldova and Lithuania.
Slovenia in the Eurovision Song Contest
Slovenia has participated in the Eurovision Song Contest 21 times since its debut in 1993. Since then, the country has missed only two contests, in 1994 and 2000, after poor results prevented the country from competing. Slovenia made its debut at the 1993 contest after coming first in the qualification round "Kvalifikacija za Millstreet", which was actually hosted in Slovenia itself. Slovenia had previously been represented at the contest as Yugoslavia between 1961 and 1991. Four of the 27 Yugoslavian entries were from Slovenian artists. The Slovenian national final to select their entry is called EMA.
Slovenia's best result in the contest is two seventh places, in 1995 with Darja Švajger and in 2001 with Nuša Derenda. The country's only other top ten result is a tenth-place for Tanja Ribič in 1997. Since the introduction of the semi-final in 2004, Slovenia has failed to reach the final on eight occasions, and made it to the final only in 2007, 2011, 2014 and 2015.
Last year in Vienna Slovenia participated in the contest with the song Here for You, written by Raay, Marjetka Vovk and Charlie Mason. The song was performed by Maraaya, which is a duet consisting of Raay and Marjetka Vovk. Slovenia competed in the 2nd semi final along with 16 other songs and placed fifth, securing a place in the final. With 39 points in the finalI they reached a 14th place.
Below you can watch Maraaya performing this year's Slovenian's entry, Here for You: