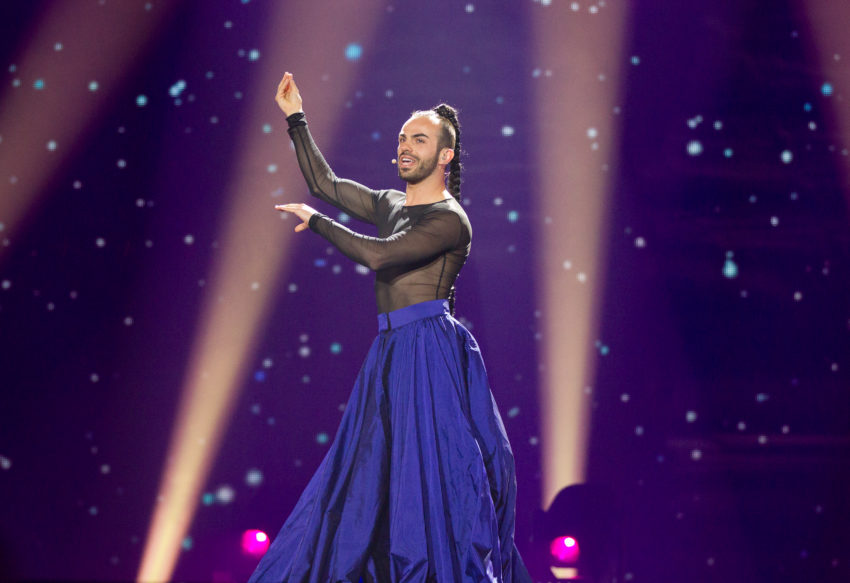 Slavko Kalezić has high thoughts about his own achievements in Kyiv, especially in the field of fashion and staging despite winning the Barbara Dex award. Furthermore Slavko defines himself as Montenegro's spiritual leader.
A couple of days ago, Slavko Kalezić was a guest on RTCG's (Radio and Television Montenegro) morning show, where he talked about his impressions from Ukraine.
Among other things Slavko said that he made a fashion revolution at Eurovision this year. The singer explained that he was helping fashion designer Marina Banović in creating his outfit for the contest. This statement comes few days after he won an unofficial award as worst dressed at the Eurovision Song Contest, the Barbara Dex award.
"Without false modesty, I can say that the star of this year's contest was Montenegro's representative Slavko Kalezić. When I look back at what happened in Kyiv it still feels like a dream to me", Slavko said in the morning show.
There is no doubt, that Slavko is very confident in himself. Except from exposing his skills as a fashion designer, Slavko also believes that he was one man responsible for carrying out his country's Eurovision project.
Every country has problems. I am an educated man, and I know how the system is functioning. The Eurovision project is a state project, which needs support from the people. I would like to thank to all delegation members, but I was the one who carried out this project. I was a point man.
Slavko also commented on the much negative critics about his performance in Kyiv. The singer explained that his primary task though was to create a show. Slavko said that he had a fever up to 38.5 Celcius on the semi-final evening, and that he wasn't the only artist, who sang false in the competition.
Overall Slavko made it clear that he doesn't care about the negative comments and that he doesn't have time for it. Actually he pictures himself as his country's spiritual leader:
I stood up for my nation and my country as a spiritual leader does. It is enough to say that I experienced how children came to me, after I went back to my country, and told me, that I was their idol.
In the video below you can watch Slavko Kalezić's in a 4K performance from Kyiv, where he finished 16th with 56 points in the first semi-final: