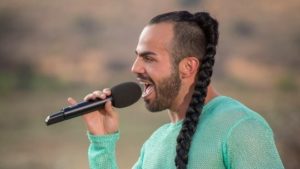 During tonight's 'Judges' Houses' episode of The X Factor UK, Slavko was in South Africa trying to impress mentor Nicole Scherzinger and 'assistant' judge Stormzy. Last week, Nicole's choice to keep Slavko during the Six Chair Challenge polarized opinion. Did the Montenegrin artist manage to justify her choice?
Being apprehensive of the stiff competition, Slavko's face often looked tense during last week's Six Chair Challenge. However, the 2017 Eurovision entrant for Montenegro need not have worried. Even though 'Overs' mentor Nicole Scherzinger reshuffled the artists she was keeping a few times, Slavko remained securely fixed in his seat.
Nicole's choice to give Slavko one of the six Overs tickets to the Judges' Houses stage of the competition polarized opinion among the fans of the show in the UK. Some reactions on social media went as far as threatening to boycott the show as a response to her decision.
This is not necessarily a bad thing for some artists of course. Dividing opinion and being controversial is probably what puts the 'X' in the 'X Factor' for Slavko. After all, whirling around a trademark long braid hints to a package that goes beyond the label of conventional vocalist. But will Slavko's package go all the way in the X Factor UK?
During tonight's episode Slavko sang On The Floor by Jennifer Lopez at Nicole Scherzinger's 'house' in South Africa – after going on a safari with the rest of Nicole's team, that is: 'I thought the safari was freaking crazy', was his reaction. Aided by English grime and hip hop artist Stormzy, Nicole had to whittle her six 'guest' artists down to three.
I came here to bring myself to the live shows. I am ready, this is my time (…) I really like Nicole – I feel her energy, she feels my energy.

Slavko during the intro video to his performance.
It was all smiles as Slavko managed to get Nicole and Stormzy dancing in their seats with his animated performance. Nicole admitted that Slavko might not be the strongest of contestants vocally but that he brought entertainment into the show, with which Stormzy seemed to agree.
Slavko, I really like the fact that, deep down, he feels he is Beyoncé, even if he is not the strongest vocally. 

Nicole on Slavko, while assessing all the hopefulls.
There was deliberation as former Pussycat Doll Nicole and her 'assistant' judge were considering each contestant. In the end, it proved that the special connection that has been evident between her and Slavko since the word go was not enough for Slavko to make it into Nicole's finalists tonight!
Update – shortly after the show, it was revealed that four wildcards, one for each category (boys, girls, groups and overs), will be handed out. The spin this year is that it is the TV viewers who have the opportunity to vote for their favourite Judges' Houses reject by 1pm on Monday 23rd October.
Also competing for the coveted wildcard in Slavko's category is Berget Lewis, a former entrant in the Dutch national selection for the Eurovision Song Contest. Even though she had previously impressed the judges with her powerful voice, nerves got the better out of Berget during her Judges' Houses performance and, like Slavko, the singer was not included by Nicole in her top three either.
Right now, it remains uncertain whether Slavko will be making it through to the next, Live Shows stage of the competition. All may not be lost yet however for Slavko and his chances to progress in the show.
Indeed, last year's X Factor UK runner-up was (twice already) Finnish Eurovision selection runner-up Saara Aalto, who had only made it to the Live Shows after she was awarded a wildcard.
In the following video, you can watch Slavko performing On The Floor for Nicole and Stormzy in South Africa. Will Slavko be given the chance to compete in the Live Shows after all? Stay tuned as we follow the Montenegrin Eurovision star in his X Factor UK journey!