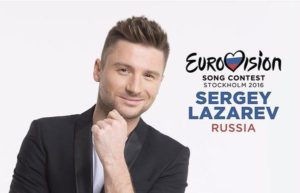 Sergey Lazarev has just announced through his official account on Instagram that he has been internally chosen to represent Russia at Eurovision 2016. Russia is the 7th country to announce its representative for Stockholm.
Sergey's participation in the upcoming Eurovision Song Contest was confirmed today during the Russian National Music Awards, where he was nominated as "singer of the year".
Россию на конкурсе @Eurovision 2016 в Швеции представит Сергей Лазарев! pic.twitter.com/vuGd2liZPS

— Филипп Киркоров (@fkirkorov) December 10, 2015
Dear friends!! I am really happy and honored to represent my country at the Eurovision Song Contest 2016! I am looking forward to this exiting experience and I hope you will all love my song as much as I do. Wish me luck, thank you!, wrote the famous singer in his personal account in instagram after the announcement.
Who is Sergey Lazarev?
Sergey Vyacheslavovich Lazarev  is a singer, dancer and actor born in Moscow. He is most famous for his singing career, when he rose to fame as the dark-haired member of the group Smash!! The group broke up in 2006. Since then, Lazarev has pursued a solo career.
Lazarev began his acting and singing career before the age of 10, singing in the Lokteus Children's Choir. At the age of 14, he had already received his first musical award, won several children's song contests, and ended up as a member of child group Neposedi, the same group in which Yulia Volkova and Lena Katina of t.A.T.u. met each other. Also his friend Vlad Topalov joined the group, who would later become one half of the group Smash!!.
In 2001, Sergey and Vlad Topalov started the boy band Smash!!. Shortly after, they were signed by Universal Music Records in Russia and became one of the biggest Russian pop groups in 2002–2003. The duo had five #1 hits, numerous awards and sold millions of records in Russia.
In February 2003, the band finally released their debut album, Freeway. Over a million discs were sold in Russia and other nations in the Commonwealth of Independent States. Smash!! subsequently toured Russia throughout 2003. On December 1, 2004, Smash!! released their second album, 2Nite. The band split only one week after the release, resulting in both Sergey Lazarev and Vlad Topalov pursuing solo careers.
Since 2004, Sergey Lazarev has followed a solo career with big success. In 2008, he tried to represent Russia in the Eurovision Song Contest with the song Flyer, but came in 4th place, losing to Russian pop star Dima Bilan. In 2008, Sergey won MTV's Artist of the Year Award and consequently released the video for the Russian version of the song Almost Sorry,
Sergey Lazarev has released 5 albums and 22 singles in his solo career. Along with the award for Singer of The Year, Sergey is now honoured to be the next Russian representative in the Eurovision Song Contest.
Russia in the Eurovision Song Contest
Russia has participated in the Eurovision Song Contest 19 times since their debut in 1994 and has participated every year since 2000. Russia won the 2008 contest with Dima Bilan performing the song Believe. The country has also finished second in the contest four times: with Alsou in 2000, Dima Bilan in 2006, Buranovskiye Babushki in 2012, and Polina Gagarina in 2015. As of 2015, Russia, along with Sweden, holds the record for the most top five finishes in the 21st Century, with a total of eight each. Russia, along with Romania and Greece, has also never missed a final since the introduction of the semi-finals in 2004.
Below you can watch Polina Gagarina performing her 2015 entry A Million Voices on the Eurovision stage of Austria's Wiener Stadthalle.