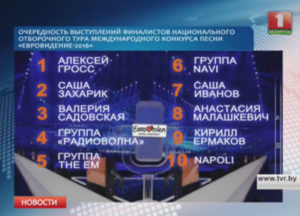 After the Belarusian broadcaster BTRC announced the finalists of its Eurovision national final a few days ago, the actual date as well as the running order of the ten entries competing for the chance to represent the country in Stockholm this May have now been revealed.
The Belarusian state broadcaster announced earlier today that the country's national final will take place on Friday 22nd January and be broadcast on BTRC's Belarus 1 and Belarus 24. On its official website, the Belarusian Television and Radio Company mentions that 'the winner of the national final will be determined by the audience via telephone and SMS voting during the broadcast of the (national) final show' and that the show itself will be 'in the format of a live concert'.
As reported in a previous article, the ten entries competing in January's national final were shortlisted by an expert jury including TEO, Alyona Lanskaya and Dmitry Koldun (Belarus 2014, 2013 and 2007 respectively) through a two day process of auditions. The running order of the ten finalists has now been revealed as follows:
It has also been reported that the short videos introducing each song of the national final are to be created in the following days by the broadcaster's creative team and will be broadcast by Belarus 1 and Belarus 24 'before and during the gala concert'. BTRC reports that the national final's organizers remain secretive about the concept of these 10 'greeting videos'.
You can find the video of a BTRC news item (in Belarusian) on the running order of the country's Eurovision national final here.
Belarus in the Eurovision Song Contest
Belarus debuted in the Eurovision Song Contest in 2004, the year when, to accommodate an increasing number of countries wishing to compete, a televised semi final (to be followed by two semi finals in 2008) was introduced. The country has never missed a contest since but has only managed to qualify for the Eurovision Grand Final on four occasions: in 2007 with Dmitry Koldun and Work Your Magic, in 2010 with 3+2 feat. Robert Wells and Butterflies, in 2013 with Alyona Lanskayaand and Solayoh as well as in 2014 with Teo and Cheesecake.  This year, Uzari & Maimuna and their entry Time failed to achieve a top ten placing in the 1st Semi Final, coming 12th out of the 16 countries competing in it, and thus failing to qualify for the 2015 Grand Final.
In the following video, you can watch Dmitry Koldun performing Work Your Magic in Helsinki 2007; its sixth placing in that year's grand final remains Belarus' best Eurovision result to date.