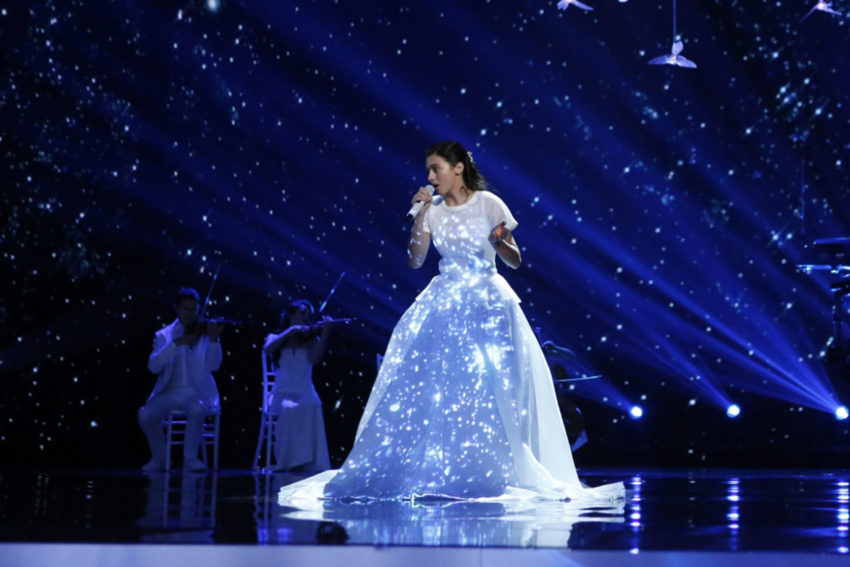 Fantastic voice, wispy vocals, or pure magic. Those are some of the words Eurovision fans from our panel used when describing Laura Bretan from the Romanian national final in 2019. What happened during the final of this national selection? And was Romania's choice of Ester Peony the right one?

Laura Bretan wasn't an unknown artist when she entered Romanian Selecția Națională in 2019. She already was known not only in Romania but also abroad. And therefore she was immediately one of the favourites to win the national selection. Her song Dear Father was composed by the famous Mihai Alexandru who was also behind Ilinca and Alex Florea's entry Yodel It! and many others. The song combines pop and opera, which has previously proved to be a very successful formula at Eurovision.
In the semifinals, the Romanian jury chooses 5 finalists while the last one was chosen by the public. There Laura was a clear winner of her semifinal where she got 54 points, while Ester Peony got "only" 41 points. The difference came in the final, where another jury voted. This international jury got 6 members and unlike usually in national finals, the public vote did not equal the same amount of votes as the jury overall but counted only as a 7th juror. Therefore, after the jury vote where Laura was third with 48 points and Ester surprisingly received 62 points, when the televote results were added, everyone was surprised. Ester secured the win even with being only 8th with the public (3 points), while Laura was clear televote winner, but it wasn't enough to beat Ester. Many Eurovision fans criticised the system of this national final, as it wasn't completely fair to the Romanian public having only a small chance to influence the results.
Dear Father – opinions from fans
In order to find out what Eurovision fans today think of this song from 2019 Romanian national final, we asked our Eurovision Fan Panel. It includes team members as well as fans from all over the world.
Josef Š. – I knew Laura already since she appeared in America's Got Talent, and I love how talented she is. Knowing she would participate in the Romanian national selection in 2019, I was really excited and when Dear Father was released, it was pure magic. How quietly and calmly the whole song starts. And it starts as a usual pop ballad. But then the last part bangs in and Laura bring the opera on the table and proves how she managed to impress the American audience. She is a perfect choice for Eurovision and because of the rigged national final I hated the winner Ester Peony even more. Laura is a sweetheart and deserved to represent Romania in Tel Aviv. I believe, Dear Father had the chance to end up in TOP 10.
Adi S. – It's the first time I'm listening to this song. She is obviously very talented but her age and lack of experience shows. She is fumbling on the quiet notes and hardly gets any of them right and attacks the forte notes too aggressively. She can have a bright future but she wasn't ready here and her not winning is very justified.
Charlotte J. – Did Romania make the right choice in 2019? No, they didn't. But Laura Bretan's Dear Father wasn't the better option. I am aware of that I might be going against the general opinion from many Eurovision fans, but for me the best one in that final was absolutely Vaida's Underground followed by Trooper's Destin. I do hear that Laura Bretan has a fantastic voice, but the song itself isn't actually better than Ester's On A Sunday, in my opinion.
Michael O. – This was another way over estimated fan fave, though I have to say much better than what Romania, or at least the Romanian jury, or no wait, esteemed international jury, chose. This would probably have made the finals, but it's nowhere near as good as the songs which made the top ten at Eurovision in 2019.
Ashleigh K. – Laura Bretan definitely had the most memorable song. I wasn't too keen on her 'wispy' vocals at the start of the song. That type of singing isn't for me. I much preferred the classical opera sound that she brought at the end of the song. It was quite unexpected and I much prefer this sound over breathy, wispy singing. Had I been voting between Esther and Laura I would have voted for Laura.
Alvaro S. – It is difficult for me to predict if Dear Father would have made better than On A Sunday. In both cases we have two singers with a strong stage presence. Maybe this song would have had a slightly better chance to impress the jurors since it has more introspective lyrics but I am still not so sure about it. The high notes from Laura are impressive though.
Enis H. – She has a powerful voice and the instrumental is great but i don't like the lyrics for some reason. That doesn't mean that she didn't do an amazing job with her wonderful voice. I would definitely like to see her again but with a different song!
John E. – My review may make me unpopular. Laura has an amazing voice which the song showcases, well but I find the song to be 'marmite' in that you either love it or hate it. While her voice is superb, I find the song instantly forgettable. I would love to hear her with a song that sounds less disjointed and I do hope she tries again. She is a major talent set for a glittering future career.
Pascal W. – This song mixes pop music with classical singing, just like Australia did last year (which was my winner!). But in my opinion it doesn't work here, it even sounds a little strange. So I think it's good that Ester won.
Egemen O. – Honestly, I was expecting something worse than the winner and this is why I listened to this song first. In the beginning, I didn't like it but I changed my mind when I heard the end. And you can imagine my reaction when I listened to the winner. This time, I prefer to keep my review short and a bit subtle because what had to be said is already said in the comments and I share the same opinion.
Enjoy Laura's performance from the 2019 Selecția Națională in the embedded video. Below the video, you can read more about her.
Laura Bretan – a mini biography
Laura was born in 2002 in Chicago to Romanian parents, so she now holds citizenship of both Romania and United States. It was Laura's mother who brought her to singing, as she was the one who started to teach her how to sing at the age of six. In 2016, Laura won sixth season of the TV show Romania's Got Talent. Then she decided to try her luck also in America's Got Talent in its eleventh season. She was praised by the judges and made it to the finals, where she ended on sixth place. Her most memorable performances were opera aires Nessun Dorma, with which Laura auditioned, and O Mio Babbino Caro from AGT's final.
In 2017, Laura was a guest performer in Romanian version of The Voice Kids. One year later, she was announced as one of the participants in Selecția Națională 2019. Laura did not win, but there were some upset fans who decided to boycott Laura, because a few months before the Romanian national final, she appeared in a TV advertisement promoting a referendum to ban the same-sex marriage in Romania.