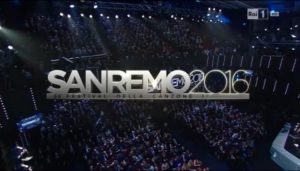 The most crucial night for the 66th Sanremo Music Festival was tonight. Campioni's semifinal and Nuove Proposte's final was held tonight in Teatro Ariston in the small city of Sanremo. We now know the 15 acts who will compete to be the next representative of Italy in the upcoming Eurovision Song Contest.
Things got serious in Sanremo's semi-final tonight. First of all we had the Newcomers final. In the Big category we had all the 20 on stage again. The votes from the two first previous nights (50/50, televote & press) will be counted along with tonight's votes (40% televote- 30% expert jury- 30% demoscopic jury) with the top 15 moving forward to tomorrow's final. The last five were entered in second round of televoting and the top pick will move on as the 16th entry. This will however only be revealed tomorrow night.
The songs
Click on the names of the artists and the songs to watch the performance from Teatro Ariston.
One of the hot favourites to win as we said from the beginning. Annalisa wore a long white dress and red hair. The song was half spoken words with a banging piano and it took ages to reach a climax. I surely prefer her 2015 entry, Annalisa's song is not bad. Once again, a powerful ballad and a great voice. A bit too dramatic maybe.
A flat midtempo pop song with descend vocals but a completely forgetable melody. The problem with this song is that it has nothing special in it. Although among so many ballads, it's nice to hear it.
We continue with another uptempo song. This one is a Napoletan rap with political lyrics. A more radio friendly song, than a song to compete in a music festival though. This doesn't mean it's not a pleasant entry.
We return to ballads after some more uptempo songs. I was surprised on Tuesday that this song was in the bottom 4 after the voting. The song has a lovely atmosphere and melody. It is about the refugees that have lost their lives in the sea (Blue) I really believe It could do well in Eurovision. One more of the songs in a national final about refugees.
This is number one in the betting offices and a lot of fans want them to see the duet in Stockholm. They both start off sitting down. Good vocals, soft ballad with enough drama and camera work. Classy and sweet. Very Italian. Very Sanremo. The problem with this song is that I can see why Italians love it but I'm not sure if it would work at Eurovision and that Europeans would love it too.
Enrico has already represented Italy in the 1993 Eurovision Song Contest. It's 80s inspired, as his previous entry. It's not a bad song, it has an Italian tune but sounds a bit outdated.
Another powerful ballad. This one is a bit more modern and not so Italian. The young artist is a true performer! She looks fragile, but when she starts singing… the impression fades away. A really nice song that I could say is another hot favourite.
A dangerous song now. It's not a single song, but a bunch of different songs at the very same time. I could describe it as a joke entry. I really don't like those type of songs but many do. Could it win? Who knows? At the moment it's in the second place in bettings.
This is my favourite. A fantastic song that could do very well in Stockholm. Great vocals and a very confident performance. A strong Italian ballad with a memorable melody and a stunning performance. The idea of her in Eurovision is at the same time exciting, amusing and thrilling.
The most pop song we get in Sanremo. Alessio has weak vocal and a flat song. His song is so repetitive that in the end gets boring. I think Alessio wanted to repeat Nek last year's success but he didn't for sure.
A midtempo song again. There is nothing to dislike but nothing to like also here. A bit outdated once again. He however gives a nice performance with good vocals.
Valeriu has maybe the most Italian song of all the contestants. The problem with him is his vocals aren't so strong. People love him and he reached the second place in yesterday's cover night. I wouldn't mind if he goes to Stockholm.
A pop ballad from the band. Their vocals aren't good but the main problem with the song is, that it is easily forgettable. Maybe one of the most contemporary songs of the night.
Noemi is a Sanremo veteran but I'm afraid that this isn't one of their best entries so far. The song isn't bad and has really interesting lyrics. It is well sung with her wonderful voice. A song that may do better with juries.
Stadio surprised us all yesterday when they won the prize in the cover competition. Could they make a surprise again and win Sanremo? Their song starts as a soft rock ballad with almost whispered vocals but then builts up to a rock anthem. It's the most energetic song in this year's Sanremo, nice vocals, nice camera work.
Arisa has already won Sanremo two years ago. A nice melodic simple but powerful Italian ballad. Very beautiful piano driven song and wonderful vocals. Arisa has already said that in case of victory, she will not accept the right to represent her country in Stockholm. Some people suspects the reason being that she may be pregnant and wouldn't want to go to Stockholm in May.
Young Lorenzo competes again in Sanremo. The song is nice, well delivered, descend vocals but nothing special. There are a lot of songs like his in this year's Sanremo line up.
I think this is the worst song of the 20 that competed in the Campioni section. A lead singer with bad vocals and a song without a purpose.
This was my second surprise in Sanremo's results in the first two nights. I didn't expert Dolcenera who has such a strong voice and a really nice and interesting song with a jazz sound, but it finished top 6 in the second night.
This is the second song for refugees tonight. Rap sounds and an energetic performance including piano and an acoustic guitar on stage. Not very original but kinda nice anyway. Maybe rap doesn't fit in Sanremo music festival that's why I don't like it so much.
The show
Tonight was the 4th night of Sanremo Music Festival 2016. Carlo Conti hosted and tonight's night along with the three known additional hosts: actress and comic Virginia Raffaele, Romanian actress and model Mădălina Diana Ghenea and actor and model Gabriel Garko. The fourth evening of the competition featured performances of all twenty entries by the acts competing in the Big Artists section and the final of the four acts competiting in the Nuove Proposte section. In addition to the performances of the competing entries, guest performers will include Elisa, J Balvin and Lost Frequencies. Other guests for the show include actors Enrico Brignano, Alessandro Gassmann and Rocco Papaleo.
The results
Nuove Proposte
In tonight's final of the Nuove Proposte section, the 4 winners of the semi-final duels were supposed to compete again. However, one of the eliminated entries Mentre ti parlo sang by Miele, was performed again but as a consolation after the entry was mistakenly announced as a finalist due to a voting error in the third show yesterday. However Miele sang as a guest only despite in the beggining RAI declared that she would compete. The finalists in the Newcomers category were:
The winner of the Nuove Proposte section was determined by the combination of public televoting (40%), the votes of the expert jury (30%) and the votes of the demoscopic poll (30%) and it was Francesco Gabbani.
4th was  Mahmood, 3rd Eermal Meta and 2nd Chiara Dello Iacovo.
Campioni
In the Big Artists section, to determine the top fifteen, the weighted average of the votes from the first and second evenings as well as the votes from the fourth evening were combined to produce an overall ranking. Again as in Newcomers' division, today's voting was a combination of public televoting (40%), the votes of the expert jury (30%) and the votes of the demoscopic poll (30%). The top`15 that directly qualified to the grand final of Sanremo 2016 is:
Alessio Bernabei – Noi siamo infinito
Rocco Hunt – Wake up
Noemi – La borsa di una donna
Valerio Scanu – Finalmente piove
Arisa – Guardando il cielo
Clementino – Quando sono lontano
Enrico Ruggeri – Il primo amore non si scorda mai
Giovanni Caccamo & Deborah Iurato – Via da qui
Francesca Michielin – Nessun grado di separazione
Lorenzo Fragola – Infinite volte
Annalisa – Il diluvio universale
Stadio – Un giorno mi dirai
Patty Pravo – Cieli immensi
Elio e Le Storie Tese – Vincere l'odio
Dolcenera – Ora o mai piú (Le cose cambiano)
The bottom five entered another round of televoting and one will move on to tomorrow's final as the 16th entry.
Zero Assoluto – Di me e di te
Dear Jack – Mezzo respiro
Neffa – Sogni e nostalgia
Bluvertigo – Semplicemente
Irene Fornaciari – Blu
The results of the second round of televoting will be announced in tomorrow' s last evening of Sanremo 2016.
Sanremo and Eurovision Song Contest
The Festival della canzone italiana di Sanremo is the most popular Italian music festival, held annually in the city of Sanremo. Usually referred to as Festival di Sanremo, or outside Italy as Sanremo Music Festival. It was the inspiration for the Eurovision Song Contest.
The first edition of the Sanremo Music Festival, held between 29 and 31 January 1951, was broadcast by RAI's radio station Rete Rossa and its only three participants were Nilla Pizzi, Achille Togliani and Duo Fasano. Starting from 1955 all the editions of the Festival have been broadcast live by the Italian TV station Rai 1.
From 1951 to 1976, the Festival took place in the Sanremo Casino, but starting from 1977, all the following editions were held in the Teatro Ariston, except 1990's one, held at the Nuovo Mercato dei Fiori.
The festival has been used as the way of choosing the Italian entry to the Eurovision Song Contest from 1956 to 1966, in 1972, 1997, 2011, 2012, 2013 and 2015. It has also launched the careers of many very famous Italian singers, including Andrea Bocelli,  Paola e Chiara, Giorgia, Laura Pausini, Eros Ramazzotti, and Gigliola Cinquetti.
Below you can watch Fiumi Di Parole (Italy's entry at the 1997 Eurovision Song Contest) as it was performed by Jalisse in Sanremo 1997 Music Festival.