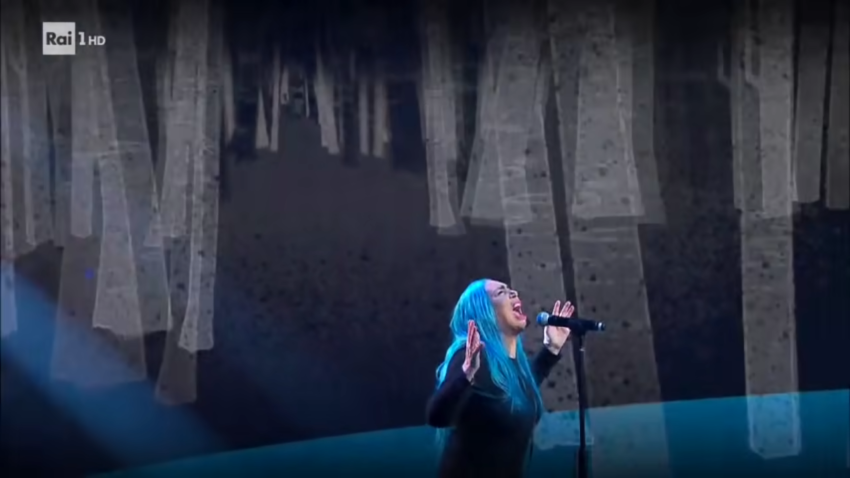 Loredana Berte's 'Cosa Ti Aspetti Da Me' was one of the most significant entries to grace the traditional Sanremo stage in 2019. We can easily say that it was the favourite of the audience in Teatro Ariston at the time.
After a week of selections, on the 9th of February 2019, Loredana missed the top three position by a hair's width and became 4th with a total of 10,35 points from the expert jury, the press jury and the public.
The result was not met with positive excitement and enthusiasm among a significant amount of the audience, who thought Cosa Ti Aspetti Da Me should have been the winner, and even slight protests could be heard that night. However, Mahmmod's Soldi became a huge hit throughout Europe. We'll never know if Loredana Berte's funky punk rock piece could have even won the whole thing in Tel Aviv.
Cosa Ti Aspetti Da Me is written by Piero Romitelli and Gerardo Pulli. It begins with an andante tempo and captures you with its uptempo rock beat towards the end. Loredana's unique outfit and look completed her heartfelt performance.
Cosa Ti Aspetta Di Me – opinions from fans
In order to find out what Eurovision fans today think of this song from the 2019 Italian national final, we asked our Eurovision Fan Panel. It includes team members as well as fans from all over the world.
🇳🇴 Steinar M. – I'm always positive to rock music in ESC, and I think this has a typical strong, sonorous, melodious Italian vibe to it. This is catchy and powerful. It shows good music / rock has no age limit
I hope Italy soon will send a good rock song like this to ESC again, like they did in 2014.
🇬🇧 Michael O. – Another Italian epic from legend Loredana, this was perhaps a bit over dramatic to get to Eurovision and have general appeal. Still no one can perform as good as an Italian.
🇨🇴 🇫🇮 Alvaro S. – I liked how the song starts so calmed and suddenly the chorus gets more passionate. The screen backgrounds also looked cool. Loredana looked very invested in her performance. Even if her voice broke in different parts of the song she gave a lot of passion to the song. It is difficult to compare it with Soldi. Apart from both sounding personal, the genres are different. This one sounds like a song from another era, while Soldi with its more urban sound looks to me like a good choice for Italy.
🇩🇰 Charlotte J. – While I do like the rock-ish sound to this song, her voice however slightly annoys me. I do see potential in the song, but I would have wanted another singer on it. I don't think this would have done well at Eurovision. I much prefer Soldi to this song.
🇬🇧 Ashleigh K. – I'm sorry for this isn't a patch on Soldi. Soldi was my favourite song from 2019 and one that I still listen to often. The sound is so modern and fresh and was a real contender for the win. Loredana's song is fine but it would have been a mid table finish at best
🇨🇿 Josef S. – Cosa Ti Aspetti Da Me was one of my ultimate favourites in Sanremo 2019. I became a fan of Soldi only later and during Sanremo I wasn't too keen on it, as I preferred Loredana Berte and Irama. This rock song is full of energy and very emotional. And Loredana is amazing while performing, hail for that as it's not an easy piece to sing. And the message in the lyrics is also very original. This would be really interesting if it would have been sent to Eurovision. But for sure, unfortunately, Loredana could not beat Mahmood's second place.
🇹🇷 Gunec G. – Loredana is an artist who captures me on stage with her performance. I even call her a legendary artist. Her performance of Cosa Di Aspetta Di Me is no exception. The way she uses her voice, the way she lives the song, her appearance, her outfit, hair, make up, everything so unique and watchable. The song itself also captures and makes me listen to it again and again even though I don't understand the language.
🇮🇪 Paul K. – This isn't bad, but it's not great. This genre of music wouldn't be my favourite one to listen to, but this song isn't bad! However, Soldi was my favourite of 2019 and nothing will do better than that! This isn't too far away from it but not close enough. I would listen to this again, no doubt, but not excessively. Good job Italy
🇲🇹 Amira M. – It is a good rock song with a good beat. She has a powerful voice and it shows that she is singing from the heart which makes an excellent performance. I like this song overall.
🇫🇷 Bernard D. – The great Loredana was back and with force at Sanremo2020. Craggy and with a powerful voice, catchy title. I absolutely loved it. My big favourite was once again Francesco Gabbani, but "La Berte" and of course Diodato were among my favourites. One more amazing Sanremo Festival as we love it. Can't wait for the next one
. Forza ITALIAAAA
Enjoy Loredana Berte's performance from the 2019 Sanremo in the embedded video. Below the video, you can read more about her.
Loredana Berte – a mini biography:
Loredana Berte was born in Bagnara Calabra, province of Reggio Calabria on the 20th of September 1950 to teacher parents. Her sister Mia Martini (Italy 1977 and 1992) is also a very celebrated artist. She started her career as a nude model and was noticed as a singer in 1974. Her debut album Streaking and her debut single Volevi Un Amore Grande were released in 1974. She attended Sanremo Festival numerous times. Her first appearance was in 1986 with a rock song called Re which she performed in a pregnant woman's costume. Her second Sanremo adventure was in 1988. In 1994, in her third participation in Sanremo Festival, she performed an emotional song called Amici Non Ne Ho. Her next Sanremo appearance was in 1995 with a funky tune Angeli&Angeli. She also appeared on the Sanremo stage in 1997 with an emotional piece dedicated to her late sister Mia Martini called Luna, 2002 with Dimmi Che Mi Ami, in 2008 with Musica e Parole, and in 2012 Respirare ft. Gigi D'Alessio. Her last participation was in 2019 with Cosa Ti Aspetti Da Me.
Loredana went through a very tragic period in 90's. She married the famous tennis champion Björn Borg in 1989. The couple split in 1992. After that, in 1995, she lost her beloved sister Mia Martini which caused her to be clinically depressed. Her 1997 album Un Pettirosso Da Combattimento reflects her tragic life experiences from that period of her life.
She is still active in her carrier in which she has already fit 25 albums and numerous singles.