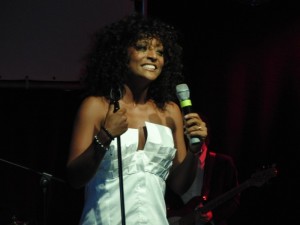 Finally! Today, San Marino presented Senhit as their Eurovision 2020 participant. This comes after a long time with total silence from the small broadcaster about to take part for the 11th time.
If it wasn't for the fact that San Marino was part of the semi-final allocation draw back in late January, one would believe that the broadcaster had pulled out for the 2020 contest. No official news – and the otherwise so active rumour spreading fans have been silent too. What's going on? Well, last night, we expected an annoucement from them. That was then postponed until today – and finally rumours kicked in saying either Senhit for a second time, or Valentina Montetta for a 5th time.
This morning, the broadcaster promised us something BIG… and now, we know what exactly they were refering to.
San Marino's Eurovision 2020 participant
So, did the long wait with absolutely no information cover over a big scoop from San Marino, or rather the opposite? That's of course up to you to decide yourself.
For the 2020 Eurovision Song Contest, San Marino will be represented by Senhit for a second time after her 2011 apperance. A short online competion will take place starting from tomorrow where people can choose between two songs.
San Marino has been drawn into the first half of the second semi-final taking place on the 14th of May 2020, live from Ahoy, Rotterdam, the Netherlands.
(Insert video)
The Fake Eurovision participant
The silence this year stands in great contract to last year where Human Doll Ken announced his participation for the small nation with a population just over 30,000 people. Back then, the broadcaster SMTV didn't respond to his annoucement. They had prior to it promised an international artist of a certain quality.
For a few weeks fans wondered if the doll aka Rodrigo Alves really was that international artist they had been looking forward to. It turned out he wasn't. The doll became a laughing joke, but scored some free publicity, and the broadcaster presented Turkish Serhat for a second time!
Only two final appearances
10 Eurovision participations – but only twice in the final. With a 19th place as best ever result, it's easy to say that San Marino really hasn't been able to provide the European TV viewers with what they want. They have however introduced the world of Eurovision to Valentina Monetta, and that we are forever grateful for. This lovely, fun and friendly woman has represented the country on none less than four occations:
2012: The Social Network Song which finished 14th in the semi-final
2013: Crisalide (Vola) which finished 11th in the semi-final
2014: Maybe which reached the final and finished 24th
2017: Spirit Of The Night (Duet with Jimmie Wilson), which finished 18th in the semi-final
Another participant, San Marino used more than once is the above mentioned Serhat. In 2016, the Turkish singer first stood on the Eurovision stage with the song I Didn't Know. Also he failed to make it to the final as it finished 12th in the semi-final. In 2019, he took part once again – and the fun and enjoyable song Say Na Na Na finally brought San Marino back into the final – for the second time only. His 19th place is best ever result for San Marino.
In the video below, you can enjoy that entry one more time 🙂