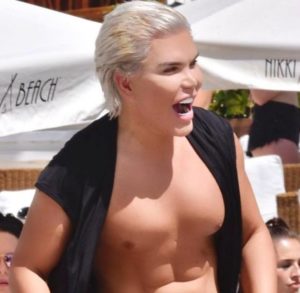 Eurovision fans have been discussing him for weeks. San Marino's broadcaster remains silent, but Rodrigo Alves keeps hinting that he is the "international artist" who will represent the country in Tel Aviv, Israel. Fans are not pleased with the Human Ken Doll.

What on earth is going on in San Marino, and more precise, with the broadcaster SMTV, that's what many have been asking themselves the past few weeks. First, the San Marino broadcaster said that they had chosen "an international" artist to represent the small country at this year's Eurovision Song Contest. Then, Human Ken Doll Rodrigo Alves hinted that he might be that "international" artist. Facebook groups have been flooded with posts quoting him for saying "It's a dream coming true" and using a photo of the Eurovision 2019 artwork with San Marino's flag, people drew the conclusion themselves.
But is he really to represent San Marino in Tel Aviv in May, or is it all fake news caused by his desire for attention? We don't know. The broadcaster hasn't said anything, but they are expected to announce their participant on Monday the 21st of January. All we know for sure is that he has now publicly more than hinted that he is the one.
Judging from the many reactions in various fan forums online, one can also conclude that a possible participation from him is, to put it mildly, met with scepticism. But who is he and why does he attract so much attention?
Rodrigo Alves is born in Brazil with a British father, at the age of 19 he moved to Europe. He is often referred to as Human Ken Doll and is mentioned to have been through at least 100 cosmetic procedures, of which more than half said to be direct surgery. Six years ago, he was diagnosed with "body dysmorphia", which is a mental health condition which causes a person to worry obsessively much about their own body image. Rodrigo tells that he was bullied as a child for having breasts and a big nose, and he continued: "Growing up I felt alone as nobody wanted to be friends with me. Because of my body image and the fact that I was shy, I avoided social situations". He had his first operation at the age of 17, and since then, he hasn't been able to stop, despite that it has been close to causing him his life – at least once.
Possible sex change?
Among the latest cosmetic changes to Rodrigo's body, we find ribs removals in order to gain a more feminine waist. That is a preparation for the future sex change, he is planning: "I am very happy to be a man for now but I don't want to be an old saggy man," he says".
"I will do what Caitlyn Jenner did. When I reach my late 50s, I would rather be a sexy old lady than a saggy old man".
In August 2018, Mr Alves appeared on Big Brother in the UK, but was thrown out by the producers after several incidents of misbehaving and using racial expressions. Before he left, he told his housemates the following about the choices he made in life:
"I don't recommend for anyone to follow my journey when it comes to that. There have been complications and it has been a long journey. But you do empower people. In life you have the decision to be whoever you want to be and do whatever you want to do, as long as you don't cause harm to other people. I did what was right for me".
Is it the 35 year old Rodrigo Alves who will represent San Marino at the 2019 Eurovision Song Contest? We simply don't know. It could be seen as a bit stretched to refer to him as an "international artist", but how does the broadcaster see that phrase? Many fans took it to mean a singer known internationally, but could it just mean a TV personality born in one country, living in another? Time will tell, but for now he is the hot topic, which many fans seem to disapprove of as a Eurovision participant. Before we judge however, we need to remember that it is a song contest, and we don't know the song or the extent of his singing capabilities.
San Marino at the Eurovision Song Contest
No matter who ends up representing the small country in Tel Aviv, Israel this year, him or her won't be under a lot of pressure despite poor resent results. San Marino simply performed so badly on the Eurovision stage that no one, sadly, expects anything from them anymore.
The country joined the contest in 2008 with the Italian-San Marinese band Miodio. They failed to reach the final, and the following two years San Marino didn't take part. Since 2011, they have however been present at every contest, although with poor results.
Only once, did San Marino reach the final of the Eurovision Song Contest. That was in 2014, the third out of four participations from Valentina Monetta. With the song Maybe, she qualified as the last act from her semi-final and with just 14 points, finished second to last in the final.
Five of the 9 entries from San Marino havw been written by German veteran Eurovision songwriter Ralph Siegel. In the video below, remind yourself of these five entries.