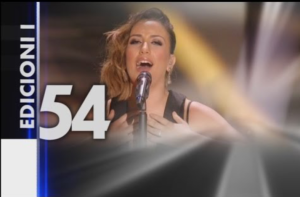 The Albanian national broadcaster RTSH, has revealed the running order for the semi finals of the 54th Festivali i Këngës at a press conference which was held today at the broadcaster's head quarter. The running order was decided by a draw made by each contestant.
The running order is as follows:
Semi final 1
Egzon Pireci – Triumf
Grupi Simbol – Artiste
Voltan Prodani – Dëgjoje këngën o Atë
Adrian Lulgjuraj – Jeto dhe ëndërro
Sigi Bastri – Engjëll i lirë
Dilan Reka – Buzëqesh
Lujz Ejlli – Pa mbarim
Nilsa Hysi – Asaj
Edea Demalia j – Era
Erga Halilaj – Monolog
Florent Abrashi –Të ndjek çdo hap
Teuta Kurti – Në sytë e mi
Kozma Dushi – Një kafe
Aslaidin Zaimaj – Merrmë dhe sot
Egert Pano – Mos ik
Semi final 2
Kristi Popa – Ajo çfarë ndjej
K.Kaçani & R.Smaja – Dashuri në përjetësi
Revolt Klan – Dashurinë s'e gjejn dot
Jozefina Simoni – Një det me ty
Andi Tako – Dielli vazhdon të më ngrohë
Entela Zhula & Niku – Muza
Genc Tukiçi – Sa të dashuroj
Evans Rama – Flakë
Besa Krasniqi – Liroje zemrën
Enxhi Nasufi – Infinit
Flaka Krelani – Sje për mua
Renis Gjoka – Ato qe s'ti them dot
Lind Islami – Për një mrekulli
Eneda Tarifa – Perallë
Klajdi Musabelliu – Ndodh edhe kështu
Worth mentioning is that a large number of the participants that have come out from talent shows like Xfactor Albania and The Voice of Albania, implying that RTSH seems to be giving the younger generation of singers a go at the Festivali. Along with the youngsters previous Eurovision Song Contest representatives of the country like Luiz Ejlli, Adrian Lulgjuraj and also Erga Halilaj who was a backing vocalist for Elhaida Dani and Hersi Matmuja are fighting for the ticket to Stockholm.
The 54th Festivali i Këngës will take place on December 25, 26 and 27 at Pallati i Kongreseve.
Albania at the Eurovision Song Contest
Albania has participated in the Eurovision Song Contest 12 times since its debut in 2004. Festivali i Këngës is the method RTSH has used to select the Albanian entry every year since their debut. Their best result until now is a 5th place, gained in 2012 with Rona Nishliu and the song Suus.
This year Albania was represented by the winner of the The Voice Italy, Elhaida Dani, who managed to get 17th at the Grand Final with 34 points. Check out her performance below.