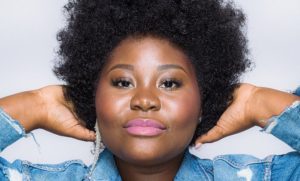 One week ago, the Portuguese singer Deolinda Kinzimba was announced as one of the semi finalists of the upcoming edition of Festival da Canção. After winning The Voice Portugal in 2015, Deolinda is really one of the favourites to represent Portugal in Eurovision, this May. We talked to her about it, and also about her musical journey.
Deolinda Kinzimba became famous in Portugal in 2015 after winning The Voice Portugal. Now, more than a year after her victory, she is announced as one of the singers that will compete in the first semi-final of Festival da Canção.
As one of the favourties, she only thinks about doing her best, hoping to represent Portugal in the next edition of the Eurovision Song Contest, in May. If that happens, she really wants to bring the title to Portugal for the first time ever.
How did you get invitation to participate?
I received a call, telling me Rita Redshoes had invited me to sing her entry to Festival da Canção. I was asked what I would think about that and if I was in or not.  I accepted the challenge. It's something completely new for me. I'm new in this country and I've never participated in Festival. It's an added-value.
How do you describe your song? Have you already recorded it?
I haven't recorded yet, but I've listened to it. It's a very beautiful song with very deep lyrics. It's about love. And when we talk about it, we can turn in many directions. I ask people to listen to it and let themselves go.
What's the style of your song?
I can't reveal yet. But it has something of mine on it. It has something that people used to hear from me.
In your participation in The Voice Portugal, you're biggest hits were sang in English. In Festival da Canção, in what language will you sing?
I'll sing in Portuguese. It's what was proposed to me and I accepted.
How it will be  competing against  two other winners of The Voice Portugal?
I don't know. It's a hard question. All of us have our own music style, and  way of singing and everyone will bring songs completely different. It's hard to say what will be the result.. We have to wait and see… I'm really excited to present what I am preparing together with Rita. And I'm sure they are also preparing something great to show people.
And what if you win? What are your expectations on Eurovision?
If I win, I really have the ambition to bring the trophy to Portugal. Honoring the name of Portugal outside the country. Conquering something as big as Eurovision for Portugal.
Would you like to sing in English or in Portuguese on Eurovision?
I think I would make a difference singing in Portuguese. Sometimes, we have to take a risk. Portugal have always sent Portuguese songs to Eurovision, but the first place has never been achieved. We must continue trying, this time in a different way, a different style, a different song and see what happens. But the focus only can be bringing the trophy home.
People from other countries really want to see Portugal winning Eurovision…
I think it's possible to make a difference, singing in Portuguese. People see Portuguese songs as poor songs. We need to prove that it is possible to sing in Portuguese, and have a great song, which can be capable of winning Eurovision. And we also need to have faith that things can happen, like it was in the UEFA Football Championship. Nobody thought that Portugal could win it, but we had faith and we did it.
Being you're originally from Angola, have you ever watched Festival da Canção or Eurovision?
No, it will be my first time watching and singing , like it was in The Voice Portugal. But I had already been doing my homework, searching some facts about Festival da Canção, its past songs, the composers, just to have an idea about how does it work.
Talking about your musical journey, how was it winning The Voice?
It was awesome. I had never imagined in my life that it could happen. Never, in my life, I had the dream of participating in a TV show. I always thought I was not good enough to be there with other ones who could be on my level or higher. So, participating and winning, it was something that made me realize my value. Sometimes, I think we need to be recognized in what we love to do, so that we can understand that we are valuable. The Voice really brought  that to me… I left behind all my fears, I faced them and here I am.
How was your Blind Audition's Day?
That was a really calm day. It was a bit cold. I didn't know my mom was in Portugal. The day before, at 4am, I had spoken to her by phone, without knowing that she was travelling to Portugal. I was a bit nervous, because it was hard seeing people get out there without turning a chair. I was thinking "Will I get out of here sad? Will the chairs turn?". But when I stepped on to the stage, all nervousness went away. I just thought "I'm going to have fun. I'll do my best, singing the way I know, and let God decide". At the end, I just let myself go.
When did you realize that you were going to win?
In fact, until the moment my name was announced, I was not 100% sure that I was going to win. I had faith. I asked God for the victory, if that was his plan for me.  Maybe this was not my time, maybe this was not the moment he planned for me. I left everything in his hands. I was confident. I did my best, I did everything I knew and I just waited…
And how did you feel when you won?
I felt very confused. In that moment, I asked myself "what I'm going to do in my life?", because it's a lot of responsibility. I'm no longer a contestant of a TV show… I'm an artist and I have to prove to people that now I can walk by myself. Now I must sing my own songs, not songs from international artists anymore. I have to put people listening to my music and give my best so they can support me all the time.
How is your career going?
It is going fine, as far as possible. People are accepting  my music well. We are preparing other things to present still this year. The way is forward, never back.
Why was "Primeira Vez" chosen  as your debut single?
It's a song that touched me a lot when they presented it to me. I stayed some hours listening to it. In fact, it was one of the songs that touched me more. That was only the reason that "Primeira Vez (First Time)" was chosen to be my first single. It's the first time I sing as an artist after the show, it's my first time on everything in music. So, I think it's very appropriate.
And can you already tell us what is going to be your next single?
Not yet. I guarantee you it will be awesome. I'm working for that.
And will the release be coming soon?
The first single was released last October, so people are really expecting new songs from me. We're working towards that.
What national and international artists inspire you the most?
Talking about the national ones, I adore Pedro Abrunhosa and Sara Tavares. They are the greatest names in Portuguese music for me. International ones: Mariah Carey, Whitney Houston, Aretha Franklin… I grew up listening to their songs. I really believe that they increased my passion about music…the way they sing, the lyrics, everything.
Lastly, why should your song be the chosen one in Festival da Canção?
It's a very beautiful song, which Rita Redshoes wrote for me, with all the love. Please, listen to it with your heart, affection and love. Think about the song's message. I'm sure people will listen to it and say "This is Deolinda!".
EuroVisionary would like to thank Deolinda Kinzimba for taking the time to talk to us and we wish her the best of luck. In the video below, you can watch her debut single Primeira Vez.