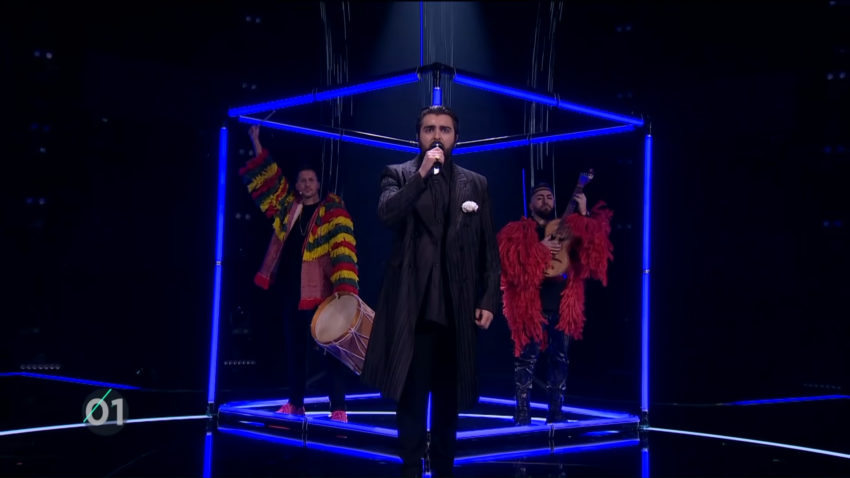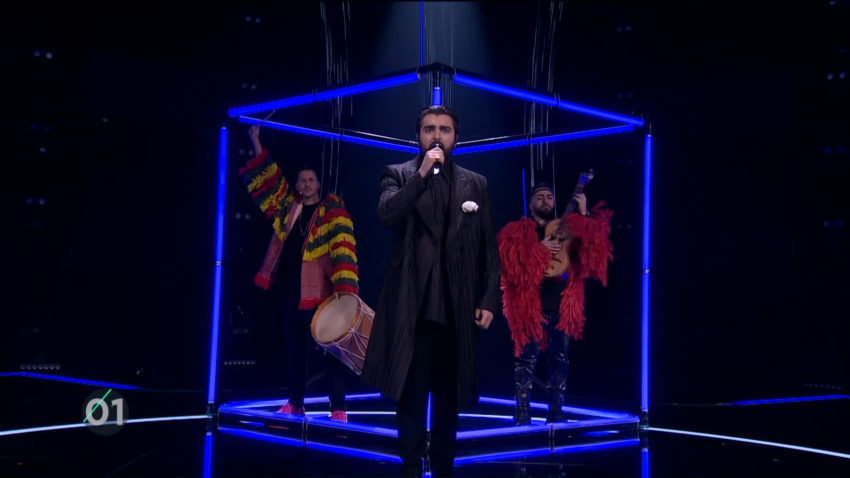 Three weeks of Festival da Canção marathon came to an end last Saturday. Portuguese electronic music group Karetus feat. Romeu Bairos and their 'Saudade' were among the favourites to win, yet it only finished 6th. Would this have been a better choice though?

Festival da Canção 2021 consisted of three shows: two semi-finals on the 20th and 27th of February, and finally the final on the 6th of March. 10 entries competed in each semi-final. Five entries from each qualified for the final. Saudade was one of the finalist entries to take the Festival da Canção stage on the 6th of March 2021.
Despite a magnificent performance, and being tipped as one of the favourites, Karetus and Romeu Bairos only finished in 6th place. Portugal instead decided to send The Black Mamba with Love Is On My Side to Rotterdam.
Saudade – opinions from fans
In order to find out what Eurovision fans today think of this song from the 2021 Portuguese Festival da Canção 2021, we asked our Eurovision Fan Panel. It includes team members as well as fans from all over the world.
🇨🇿 Josef S. – Such a good and modern song from Portugal. Maybe it was too similar to Telemoveis (Portugal 2019) which flopped in Tel Aviv, so Portugal was afraid of making the same mistake. But I liked the song a lot, actually it was my favourite. Well sung and a memorable entry. Definitely would end up better than Black Mamba.
🇩🇰 Alberte B. – Saudade reminds me too much of Telemoveis, which I hated. I'm happy this didn't win. Love Is on My Side is such an amazing song and a million miles better when you compare the two.
🇵🇹 Linete A. – I am a Eurovision fan and as a Portuguese citizen also a fan of Festival da Canção which I watched live last Saturday night. I liked Karetus and Romeu Bairos from the beginning and liked its mixture of traditional Portuguese music and more modern music. Romeus voice is fantastic, but I found the song very repetitive. It wasn't a favourite for me, but so wasn't The Black Mamba who won for Portugal. I like the song even being in English (my favourite was Neev who also sang in English), but it's not the style of music I enjoy. Tatanka has a great, distinctive voice and I love the instrumental part of the song. I hope they do well in Eurovision 2021, and I've got to like and appreciate their song more now.
🇪🇸 Mária P. – In my opinion Saudade was by far the best option to have represented Portugal this year in Eurovision. It's an interesting and beautiful song, with traditional sounds and rhythm from Portugal mixed with modern sounds. I think it would have easily qualified for the final. The winning song however was my least favourite and I don't think it will qualify, but anyway I wish much luck to our dear neighbours.
🇩🇰 Charlotte J. – Should Portugal have picked this one instead? No. While the song does have parts I like, I have to force myself to stay awake during this song. I like his voice better than the one from the lead singer of The Black Mamba, so that's a plus. Can't they swap singer? The performance for Saudade doesn't appeal to me either. Sorry Portugal.
🇹🇷 Gunec G. – I loved this song from the first time I heard it. It had everything I asked for in a song from Portugal. Many people think it resembles Telemoveis, but I strongly disagree. I don't know if it would have done well in Rotterdam, but I surely would enjoy seeing it on Eurovision stage.
🇬🇧 Michael O. – I was going to originally say that as per most Portuguese entries this would have no chance to win Eurovision, but having heard others songs that have been selected this year, it makes this one sound not too bad. I'll probably never listen to it again unless it pops up randomly on YouTube, but for its three minutes it meanders on pleasantly until another song comes on.
🇨🇴 🇫🇮 Alvaro S. – Oh I love this traditional sound and I also liked the dance and the dresses. I personally think this song represented Portugal better than the actual winner and in fact, I would prefer to have this on Eurovision than the winner who gives me Latvia 2019 vibes.
🇭🇺 Vangelis M. – Saudade is not a bad song. I would not download it because it is not my cup of tea, but I would prefer it to travel to Rotterdam instead of the winning one. I find it more interesting with uptempo elements that we need in a situation like this. I mean staying home and not being able to go outside to party.
🇳🇴 Stine F. – Although I always enjoy when a song is in the country's national language, I still prefer the song that won in Portugal this time. They are both OK to me, but not more than that.
🇮🇱 Adi S. – It's weird, but not in a good way and not weird enough to be interesting. Maybe there's a deep cultural thing here but without understanding it – it's underwhelming and his vocals are weak. I prefer the winning song. I love that style and the singer's voice is different and interesting. I think we need more songs like that. Hopefully it qualifies.
Enjoy Karetus and Romeu Bairos' performance from the 2021 Portuguese National Final, Festival da Canção 2021 in the embedded video. Below the video, you can read more about them.
Karetus – a mini biography
Karetus is a Portuguese Electronic music band formed in 2010 by DJs and music producers Carlos Silva and André Reis. Their musical breakthrough was with their disco song Future is Now. After Future is Now, they released their first EP Entrudo.. They have released many singles like Maluco, Burra, Mais Uma Party and Wall of Love. They have also made a remix cover of Bella Ciao.
They participated in Festival da Canção 2021 with Romeu Bairos and their song Saudade.
Romeu Bairos – a mini biography
Romeu Bairos was born in the parish of Furnas on the 20th of September 1993. He showed passion to music at a very early age and participated in various festivals where he showed success. He later studied piano and clarinet at the Regional Conservatory of Ponta Delgada. In some philharmonic bands on the island of São Miguel, he played the clarinet. Furthermore, he performed some musical poetry recitals.
In 2010, he decided to deal with music professionally. He played in several bars on the Azorean islands. He participated in the third edition of The Voice Portugal mentored by Marisa Liz and reached the Tira-Teimas. His partnership with Karetus started in 2019 and carried way to the Festival da Canção 2021 participation.