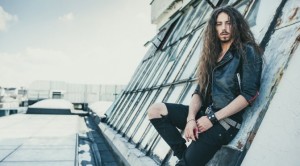 Michal Szpak, Poland's singer for the 2016 Eurovision Song Contest has been busy filming a new video for his song, Color Of Your Life. The video, which fits the song quite well, was released today.
The Polish video starts as the sun rises on a lake and rolling hills, and cuts to Michal performing the song with a black background. As the video continues there are more shots from above of the beautiful scenery, finally seeing Michal taking a winter walk along by the lakeside.
He ends up at the top of a ruined castle as the camera shoots the trees and hills around him. As Michal explores the castle, the video cuts to four violinists before coming to an end. There is no question that the video compliments the song very well.
Poland will perform in the first half of the second semi final at this year's Eurovision Song Contest.
Poland In The Eurovision Song Contest
This will be the nineteenth time that Poland will participate in the Eurovision Song Contest. Their debut in 1994, gained second place with Edyta Górniak and To Nie Ja, but the following year, Justyna Steczkowska and Sama dropped to 18th place and sadly that's about the placing, Poland usually finds itself.
In 2003 IchTroje placed 7th with Keine Grenzen-Żadnych granic, but a return visit three years later with The Real McCoy and the song Follow Your Heart failed to qualify to the final. Between 2005 and 2011, only Isis Gee made the final in 2008 with For Life,  but she finished in 24th place. Poland had had enough and withdrew until 2014.
On their return, Donatan and Cleo placed a better 14th with My Słowianie – We Are Slavic. Enjoy highlights from Poland's recent participation below, hopefully seeing contenet that is new to you.