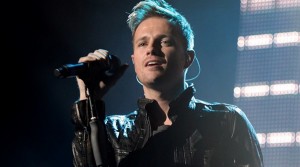 Nicky Byrne, a former member of the successful boyband Westlife, has been chosen by broadcaster RTÉ to represent Ireland at the Eurovision Song Contest 2016. Byrne will sing the song Sunlight in Stockholm. The news has been confirmed in the morning by the Irish broadcaster.
After much recent speculation, RTÉ has confirmed today that Nicky Byrne is the chosen one to represent Ireland in the 2016 Eurovision Song Contest. He will perform the song Sunlight, which you can watch in the video below. Nicky, who is one of the most famous Irish singers and has sold 45 million records as part of Westlife, will perform the song Sunlight co-written by himself, renowned songwriter Wayne Hector and award-winning composer Ronan Hardiman.
After the official announcement Nicky said:
Like many of us, I have grown up watching the Eurovision Song Contest. It always brought great excitement to our house down through the years and I was lucky enough to see Ireland win it on many occasions. I have a great memory as a nine year old, of dancing around our sitting room in a tri-colour sweatshirt when Johnny Logan lifted the trophy in 1987.The Eurovision is a TV show and song contest like no other and for the past three years my Eurovision experience has gotten better and my affiliation grown stronger, as I have proudly delivered the Irish votes live from Dublin. This year I go one step further, and actually walk on that stage to represent my country, I am honoured RTÉ have chosen me and believe in this song like I do. The song is called Sunlight and I co-wrote it with two of the music industry's legends; producer and writer Ronan Hardiman and songwriter Wayne Hector. I have always felt this song had something different, something special. I also look forward to re-visiting Sweden, a country where we had so much success with Westlife over the years and I can't wait to be a part of what I'm sure will be an amazing show in Stockholm. Ireland, I will give it my best shot. Sweden… here we come!.
The song has been produced in Ireland by Ronan Hardiman and Nicky Byrne and mixed in LA by Serban Ghenea, who has mixed 140 Number 1 singles. The creative team is led by Tim Byrne, former Creative Director of Syco Entertainment at Sony Music and includes Lee Lodge whose production credits include the 2015 Oscars© and MTV Music Video Awards. The team will work with RTÉ's Head of Delegation Michael Kealy to produce the performance of Ireland's entry.
This year RTÉ decided to change the selection format they has been used the last years, under the name Eurosong, and make an internal selection. John McHugh, Head of Entertainment RTÉ Television, said:
We have a long and proud history with Eurovision, but we've had mixed results over the last few years. Myself and Head of Delegation Michael Kealy took a serious look at our approach, reviewing the entire process and the Eurovision Song Contest itself. The competition is constantly evolving and RTÉ has to be flexible in how we approach it in order to put our best foot forward. Direct selection has proven to be a successful method for other countries and we felt that this year it would give us the best chance at success. First and foremost, it's a great song, written by an internationally renowned team, and with Nicky's massive breadth of performance experience, along with his huge fan-base and profile throughout Europe, it's a really impactful package.
Nicky will perform the song live on The Ray D'Arcy Show on Saturday 13th February.
Ireland in the Eurovision Song Contest
Ireland has participated in the Eurovision Song Contest 49 times since making its debut at the 1965 Contest in Naples. Since then, they have missed only two contests, in 1983 in Munich and 2002 in Tallinn. Ireland is the most successful country in the contest, with a total of seven wins. All of the Irish entries have been performed in English with the exception of the 1972 entry, Ceol an Ghrá, which was sung in Irish. Ireland have hosted the contest on seven occasions, all but one of these in the capital Dublin, while the 1993 Eurovision Song Contest was staged in Millstreet, a town in north-west County Cork with a population of 1,500 people, the smallest city that has hosted the contest ever.
Dana gave Ireland its first victory in 1970, performing All Kinds of Everything. Johnny Logan gave Ireland a second victory in 1980, with What's Another Year. Logan then wrote the 1984 entry Terminal 3, which finished second, performed by Linda Martin. In 1987, Logan became the first and (as of the present day) only performer to win the contest twice, when he won with the self-penned Hold Me Now. Ireland's most successful decade to date in the contest is the 1990s. Ireland achieved an unequalled three consecutive victories in the contest. In 1992, 1984 runner-up Linda Martin returned to win with another Johnny Logan composition, Why Me?. This was followed up by Niamh Kavanagh's victory in 1993 with In Your Eyes and Paul Harrington and Charlie McGettigan winning in 1994 with Rock 'n' Roll Kids. The decade saw yet another victory in 1996 when Eimear Quinn won with The Voice. Ireland also finished second in 1997 with Marc Roberts and his Mysterious Woman.
In the 21st century, Ireland has fared less well, only reaching the top 10 on three occasions, with Eamonn Toal sixth in 2000, Brian Kennedy tenth in 2006 and Jedward eighth in 2011. Ireland finished last in the final for the first time in 2007, which happened again in 2013. Since the introduction of the semi-final round in 2004, Ireland has failed to reach the final five times, in 2005, 2008, 2009, 2014 and 2015.
Last year in Vienna Molly Sterling won the Irish national final with her sweet ballad Playing With Numbers. In the second of the Eurovision semi-finals, Ireland failed to qualify to the final, placing twelfth out of the 17 participating countries with 35 points.
Below you can watch Molly Sterling performing her song, Playing With Numbers at the Eurovision Song Contest in Vienna: