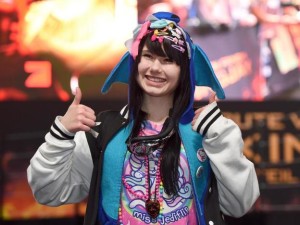 NDR, the German national broadcaster, has revealed the 10 finalists competing to represent Germany in May. A national final titled Unser Lied für Stockholm will be broadcast online and on TV channel Das Erste on February 25th. Here is all you need to know about the artists and their entries.

Hosted by Barbara Schöneberger, the event will include two rounds of televoting, including votes by SMS and through the Eurovision app. The following 10 acts have been pre-selected out of about 150 candidates. Various art schools in Germany were asked to contribute ideas for the staging of the participants.
Avantasia is a project created by singer and composer Tobias Sammet. He refers to the style of his band as 'bombastic rock' and, through it, he had collaborated with many renowned musicians. So far, Avantasia has sold more than three million albums and played thousands of concerts in more than forty countries around the globe. Their latest album Mystery Of Time was released in many countries around the world reaching number 2 in Germany. The band recently announced a world tour to support their upcoming rock opera album Ghostlights.
As a musician, of course you want your music to reach as many people as possible. Although I think that art isn't like an Olympic discipline that you can objectively assess, I think the Eurovision Song Contest provides the opportunity to draw the public's attention to different music genres that exist in Germany. It also allows musicians from all over Europe to showcase their art and music for a moment. That alone is an extremely good reason to compete and to show that Germany continues to produce good rock music.

Tobias Sammet
Following the tragic events in Paris back in November, singer-songwriter Alex Diehl wrote this song using his cell phone camera and uploaded it to his Facebook account. A few hours later, the upload already had more than a million views. Since then, the song has reached more than seven million views as well as international media awareness.
Entering the Eurovision Song Contest pre-selection means a lot to me, especially with Nur Ein Lied as I want to express my emotions and hopes for a more peaceful world and for humans to come together. I would be happy to represent Germany in Stockholm with the message that we are Europeans, a part of this world and we are against war and hatred.

Alex Diehl
Ella Endlich – Adrenalin
Schlager-pop singer Ella Endlich was born in Weimar and grew up in Berlin. In the late 90's, she had her first chart success under the name Junia. She studied acting, singing and theatre and acted in stage productions for Heidi, Grease, Les Miserables and Phantom of the Opera. In 2009, she sang the theme song of the movie Three Wishes for Cinderella – the single spent more than a year in the German charts.
As a child, I always dreamt of taking part in this event and now that I'm officially competing in the National Selection, I'm really speechless, very excited and curious about the event, the bombastic productions and of course the audience. It's pure Adrenaline!

Ella Endlich
Gregorian – Masters Of Chant
Hamburg music producer Frank Peterson had the idea of mixing Gregorian music with modern popular music and involve the Gregorian Choir. To date, the choir has released 15 CDs and 6 DVDs resulting in gold and platinum discs in 24 countries. Their current album Masters of Chant – The Final Chapter debuted at number 8 in the German album charts and the group will start a four-month world tour this February.
The fusion of Gregorian chant with pop and rock is the unique selling point of Gregorian. Globally, the Hamburg group have sold ten million records and played to half a million people from Europe to Japan, making them the world's most successful choir.

Frank Peterson
Jamie-Lee Kriewitz won The Voice of Germany 2015 with her own song Ghost. After the Final victory, Ghost reached #1 on iTunes and 11th place on the German music charts. The 17-year-old schoolgirl from Hanover is currently touring Germany with the other finalists of the The Voice of Germany 2015.
I would like to represent Germany at the 2016 Eurovision Song Contest. Personally, it would be a great experience, something I would never have even dreamt about a year ago.

Jamie-Lee Kriewitz
Joco – Full Moon
Hamburg sisters Josepha and Cosima form the indie pop duo Joco. Cosima and Josepha both studied music in the Netherlands and mix piano, guitar, drums and vocals to get their pop sound. Their debut album Horizon of last year was recorded at the Abbey Road Studios in London and was produced and mixed by British Grammy winner Steve Orchard (U2, Coldplay, Paul McCartney, Bjork).
The National Selection will be an exciting evening and we are very pleased to be a part of it. We love to share our music with people and we cannot wait to perform our new song Full Moon to this big audience!

Joco
Kat Frankie comes from Sydney but has been living for more than ten years in Berlin. She's had several folk albums and has been in various projects as a singer. Kris Klopfer is a rock musician from Cologne and writes lyrics both in English and German. For some time, he had been part of the band Nile as well as releasing solo material. Together, Kat and Kris form the band Keøma. Their debut album is expected to be released this month and promises sounds of guitar, bass, synths and vocals.
We create a sound for a cosmopolitan and modern Germany. Our hope is to bring back the Eurovision Song Contest to Germany.

Keøma
Laura Pinski – Under The Sun We Are One
Born in Düsseldorf, Laura Pinski sings, plays guitar and piano and, in 2012, was in the final of the show Das Supertalent. The 19-year old will compete with the song Under The Sun We Are One composed and produced by Ralph Siegel and written by John O'Flynn.
Just the idea of singing on such a big stage and being able to share my passion with so many people is incredible and maybe, with a little luck, my dream will come true – to represent Germany in the Eurovision Song Contest

Laura Pinski
Luxuslärm – Solange Liebe In Mir Wohnt
The pop-rock band Luxuslärm, formed in Iserlohn, includes singer Janine "Jini" Meyer, bass player David Müller, Christian Besch on keyboard, guitarist Freddy Hau and drummer Jan Room. The band has already attained an ECHO nomination, the radio prize 1LIVE Crown, a fourth place in Stefan Raab Federal Vision Song Contest, multiple guest appearances on TV series and more than 200,000 albums sold. This spring, their fifth studio album Fallen and Fly will be released following a tour across Germany.
We are looking forward to be part of the madness of the national pre-selection for the Eurovision Song Contest with Solange Liebe In Mir Wohnt, a song from our new album. It would be an honor to be chosen by the audience to compete in Stockholm representing Germany.

Jini
Woods of Birnam – Lift Me Up (From The Underground)
Woods of Birnam is the pop band of singer and actor Christian Friedel (The White Ribbon) and musicians of the group Polarkreis 18. In 2012, the band performed as part of William Shakespeare's Hamlet at the Staatsschauspiel Dresden with Friedel playing the main role. In 2014, the band released their first album, followed by a big tour. Their song I'll Call Thee Hamlet was the title song for the film Honig Im Kopf. The band is currently working on their second album and a new theatre production at the Staatsschauspiel Dresden
It was a great surprise to learn that we had qualified to the National Final for the Eurovision Song Contest. We are very pleased with our song Lift Me Up (From The Underground) and are looking forward to competing with the different artists and with so many different music genres.

Woods of Birnam
Unser Lied für Stockholm will air both online and on the German TV station Das Erste on February 25th 2016 at 20:15 CET. Last year, Germany selected Ann Sophie with the track Black Smoke to compete in Vienna resulting in a disappointing 0 points.