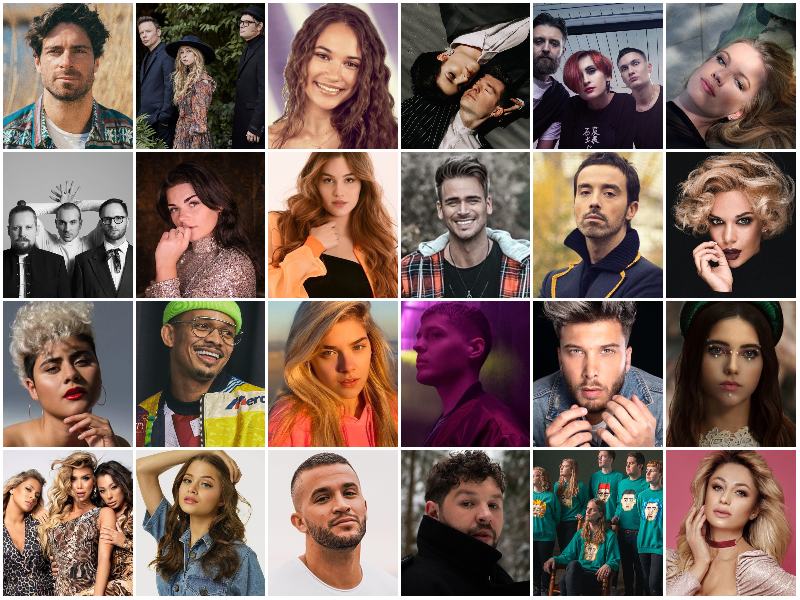 It seems that in general, artists who were internally selected to represent their country at the Eurovision Song Contest 2020, have been chosen again for 2021. Unfortunately artists whose counties hold National selections have not been so fortunate.
When Eurovision 2020 was cancelled, due to the coronavirus threat, the dreams of 41 hard working artists were shattered. Every one of them, respectfully released a statement agreeing that the cancellation was the right thing to do. Since then fans have wondered what will happen in 2021.
The majority of countries which hold National finals have said that new selections will be broadcast next year and the 2020 acts would not necessarily represent them in 2021. To date Go_A from Ukraine and Montaigne from Australia are the only exceptions.
Lithuania – Eurovizijos Atranka
This year, for the first time ever, Lithuania had been at the top of most betting polls, as most likely to win the Eurovision Song Contest with the Roop and the song On Fire. Lithuanian television (LRT) kept the Roop on tenterhooks until March 31, wondering what they would do in 2021. While The Roop have stated that they feel it is their moral obligation to represent Lithuania in 2021, LRT decided to offer the band an automatic place in next year's final. As of today, lead singer of the Roop, Vaidotas Valiukevičius says it's too early to make a decision,  as there are too many things going on at the moment. The group are currently at home promoting their previsouly released, three CD'S, and do not want to think too long into the future at this time. Lithuania have historically had one of the longest selection processes in Eurovision, and this taks up an awful lot of an artists time to prepare.
Sweden – Melodifestivalen
Christer Björkman, producer of SVT's Melodifestivalen in Sweden, was the first to reveal that The Mamas would likely not represent Sweden in 2021. For many years, Melodifestivalen has been one of the most popular shows in its homeland, and one of its most popular exports. Melodifestivalen 2021 will take place next year as scheduled, and, at this time, The Mamas, who in 2019 sang backing vocals, for the Swedish entry Too Late For Love, are not expected to take part. They were due to sing the song Move in Rotterdam this year. The group released a statement on their instagram account expressing their disappointment, but understood the reasons behind the decision.
Iceland – Söngvakeppnin
While there has been no news about how Iceland will choose their 2021 representative, it can be assumed that it will be by the long running Söngvakeppnin show. Daði has said that he will not be part of that show as a performer. Whether that means he may be interested in writing a song for another act remains to be seen. Daði had also been considered one of the favourites at the 2020 contest, with the chance of giving Iceland, their first win with the song Think About Things.
Norway – Melodi Grand Prix
While not getting too personally into Ulrikke's private life, it seems that the cancellation of the 2020 contest has hit her pretty hard. This is a shame as she too had a perfect song for Eurovision, and has worked really hard, this being her second time to feature in Norway's Grand Prix. After discussions with NRK, Ulrikke has turned down the chance of a slot in next year's Grand Prix final, questioning whether she can find a better song than Attention. On her instagram account Ulrikke proclaims that her dream is over. Ulrikke is interested in entering musical theatre, of which surely she will be very successful.
Portugal – Festival da Canção
Unlike other broadcasters, it was Elisa herself who announced that she will probably not be representing Portugal at the 2021 contest. after winning in 2020 with the song Medo Di Sentir. RTP have not yet announced whether they will hold the Festival da Canção in 2021, or indeed whether they will be at next year's contest.
Latvia – Supernova
This year there were doubts as to whether Latvia were going to hold their Supernova selection. In the end they had a final, dropping their usual two semis. Samanta Tina won the show, after five previous attempts,  with the song, Still Breathing. Since then she has proven to be an excellent ambassador for Latvia, and has announced her interest in representing the country in 2021. LTV have said that no announcement will be made until the coronavirus crisis is over, but fortunately there seems a good chance that Samanta will represent Latvia next year.
Albania – Festivali i Këngës
Albania hosts the long running Festivali i Këngës every December, and since 2004 has used it as a means to pick their Eurovision entrant. Arilena Ara won the last completion with the song Shaj, and was late to the party this year in submitting the English version, that she had planned on singing in Rotterdam called Fall From The Sky. It is unlikely that Arilena will be back in 2021, unless she wins Festivali i Këngës 59, of which at this time, she has not even confirmed that she will compete.
Belarus – Eurofest
In the past Belarus have used some odd ways to select their entry, but in recent times have calmed down to a National final. Although, again since their National Final, is not as established as say Melodifestivalen, there could be a chance they will ask VAL to represent them next year, an opportunity VAL says they would accept, hoping they can produce another song like Da Vidna, which would have been their 2020 entry.
Denmark – Dansk Melodi Grand Prix
You have to feel most sorry for Ben and Tan from Denmark, who won their heat this year, with no audience in attendance, so they have not yet had the chance to receive audience feedback. Their 2020 song was another one well fancied in the bookies ratings, and it seems unlikely they would be able to produce a song as good as Yes. You never know though, and if the other northern European National finals are to be used as a model, it is likely Ben and Tan will be offered a slot direct to next year's Dansk Melodi final. Good luck to them.
Italy- Sanremo Festival
If it is even possible, the Sanremo festival in Italy is even more popular than Melodifestivalen is in Sweden. The biggest difference though is that Sanremo is not specifically used as a vehicle to select the Italian entry for Eurovision. The winner is given the chance to go to Eurovision, should they wish, and this year, Diodato was happy to do this with Fai Rumore. However future bookings and commitments for Diodato into 2021 means that Italy will probably have a new performer for 2021, although due to the virus, Diodato will need to change his schedule anyway. Diodato was supposed to play in Milan on April 22 and continue his tour in July. These dates are to be rescheduled, so we await to see if he would be interested in Eurovision next year.
Finland – Uuden Musiikin Kilpailu
It seems that Finland will again hold Uuden Musiikin Kilpailu in 2021, although in the previous two years, they internally chose Saara Aalto and Darude. There is a chance that they may ask Aksel to present some songs and then internally choose him for 2021. Currently we do not know what Finnish Television (YLE) is planning for next year, but let's hope that after all the work Aksel did with the proposed 2020 song Looking Back, does not go to waste.
Slovenia – EMA
When Eurovision 2020 was cancelled, Ana was in the middle of mixing her winning entry Voda. She went on to release the  version later in the month. Slovenian Television have not yet announced their plans for next year, however their EMA  show is gaining popularity at home. However in 2013, Hannah Mancini was internally selected with the song Straight Into Love, so it is possible Slovenia could do this again, allowing Ana to represent them in 2021.
Moldova – O melodie pentru Europa
Every year it is not clear whether Moldova will have a National final or not. While, late in the season they usually do end up with an internal show, it would not be surprising if Moldovan Television give their selection show a miss next year, and internally select Natalia Gordienko again. Philipp Kirkorov(Russia 1995) and co-composer of Moldova's 2020 song Prison, has expressed his annoyance to  MK.ru, about the lack of news from the Moldovian Television broadcaster (TRM).
Of course, despite the  broadcasters plans to host new shows, there is no guarantee that new acts may want to feature in them, feeling that perhaps the 2020 artists should get a chance to go to Eurovision. Also fans may feel the same way, and will vow only to vote for the 2020 act, where a country is giving an artist a wild card in their selection.
Three of the four big five countries, who in 2020 internally selected have also not announced whether their 2020 representative will return, with only Spain announcing that Blas Cantó will be back. The future participation for Tom Leeb (France), James Newman (United Kingdom) and Ben Dolic (Germany) has not been decided. Equally Ireland's Lesley Roy has declared she will work for six months to find a new song to replace Story Of My Life,  but has yet to hear if she will be announced by the Irish broadcaster RTE as their future representative.
Stay tuned for what still seems an exciting selection year for 2021. In the meantime you can listen to the revamped version of Voda, which was to have been the Slovenian entry this year.