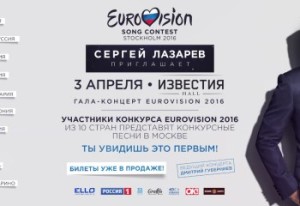 At the Izvestia Hall on 3rd of April the 7th edtion of the annually Moscow Eurovision Party will be held. 10 of the 2016 Eurovision Song Contest participants have been confirmed. Dmitry Guberniyev, Russian Eurovision commentator will host the event.
For the 7th year in a row on the 3rd of April, the Russian capital will host one of the larger pre-Eurovision events, the Moscow Eurovision Party. Ten countries have confirmed their participation so far, and will have the chance to present their Eurovision entries to the Russian public and media. Russian act, Sergei Lazarev is naturally in the line up, which features particicipants from both east and west Europe. Hosting the show, is as in the previous years Dmitry Guberniyev, Russian commentator. The participants for the 7th Eurovision Party in Moscow are:
Albania – Eneda Tarifa
Armenia – Iveta Mukuchyan
Belarus – Ivan
Cyprus – Minus One
F.Y.R. Macedonia – Kaliopi
Malta – Ira Losoco
Russia – Sergey Lazarev
San Marino – Serhat
Spain – Barei
Switzerland – Rykka
It hasn't been announced yet if there will be any guest artists. Last year there were ex Eurovision participants from Russia, such as like Dima Bilan who represented the country twice times at the Eurovision Song Contest, and won it once, in 2008 with the song Believe.
Below, please do take a look at the video with the 2015 Russian entry, A Million Voices by Polina Gagarina which finished second: