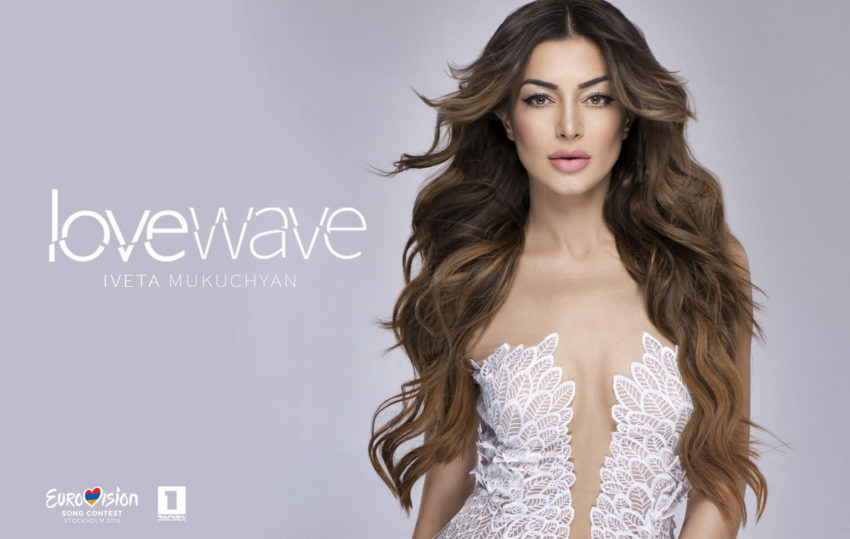 Tonight, the Armenian entry for the 2016 Eurovision Song Contest was premiered. Iveta Mukuchyan will with the song LoveWave try to live up to the great Armenian results from the past where the country finishes in top 10 more than half of the times.
Iveta Mukuchyan was announced as the Armenian representative for this year's Eurovision Song Contest a few weeks ago. She had been internally selected by the broadcaster, The Public TV Company of Armenia (AMPTV), but the song not yet released. A small teaser was sent out, but the actual song we had to wait until tonight to hear.
In Stockholm, Sweden in May, Iveta Mukuchyan will sing the song LoveWave for Armenia. By the broadcaster it is mentioned to be "a reflection of Ivata's inner world and personal emotions".
I wanted to sing about a feeling we all know and crave for. A feeling that creates and destroys, empowers and weakens, rips and completes. A feeling out of space and time, that is unpredictable as an ocean and powerful as a wave. A feeling that is worth fighting for… Love.

Source: Iveta Mukychyan
LoveWave is composed by Lilith and Levon Navasardyan, the same authors who wrote the Armenian 2014 Eurovision entry, Not Alone with which Aram Mp3 secured a fourth place for his country. The lyrics for the 2016 entry is written by Iveta herself and Stephanie Crutchfield.
The video which you can see below features Iveta and Swedish model Ben Dahlhaus and is made as co-production between the broadcaster and the German Blacksheep Communications. The artistic work in the video is made by Arevik Simonyan chief designer and founder of Kivera  Naynomis.
Armenia in the Eurovision Song Contest
It was back in 2006 when Armenia joined the Eurovision Song Contest. They made it to the final and with the song Without Your Love they came 8th. That song became the first of many top 10 positions to the country, in fact out of their 9 participations six of them made top 10.
Most famous among fans are the catchy songs like Qélé, Qélé by Sirusho which finished fourth in 2008 and Boom Boom, which as the only Armenian entry failed to reached the final in 2011, but a ballad like Not Alone (2014) certainly also have its fan base, where as last year's entry Face The Shadow failed to win the hearts of the fans.
To refresh some of the recent highlights from Armenia at the Eurovision Song Contest, we made this video which include Eurovision performances as well as clips from concerts.