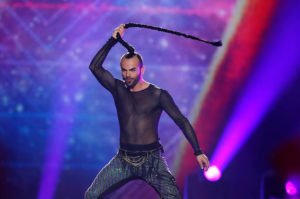 Tonight Montenegrian Television (RTCG) revealed the names of the five contestants hoping to represent Montenegro at the Eurovision Song Contest 2018.
The Montevizija 2018 will see five contestants compete on 17 February to try to represent Montenegro.
They are:
Lorena Jankovic – Dusu mi daj (Give me your soul)

Nina Petkovic – Disem (I breath)
Katarina Bogicevic – Nezeljena (Unwanted)
Ivana Popovic Maritnovic – Poljupci (Kisses)
Vanja Radovanovic – Inje (Hoarfrost)
The contestants were chosen by experts of the Montenegrian mucic scene. They were Slaven Knezovic, Vladimar Maras, Ismeta Dervoz, Kornelije Kovac and Dejan Bozovic.
Montenegro has failed to qualify for the finals in the last two years. Last year Slavko went on to further limited success on the U.K X-Factor. Enjoy his entry Space below.