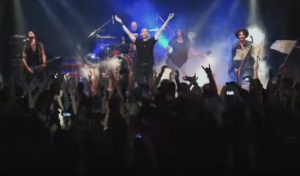 Minus One presented Alter Ego live for the first time on the 26th of March – after adding visual effects the video is now online. Depite live performances from various preview events already being available, this is the official live video the band wanted to present.
Minus One performed Alter Ego live for the first time in public, in DownTown, the club that hosted all their gigs this winter in Nicosia. In their last gig there and as a gift to their fans, on 26th of March Minus One presented their Eurovision entry live for the first time. Today they released that live performance on their official You Tube channel. The delay was due to the processing of the visual effects.
Please do try our little quiz with five quick questions about Minus One and their entry. Did you score well? Don't forget to tell your friends about the result.
Minus One took part in last year's Cypriot Eurovision selection, but with which song? Check your knowledge about the band in this quiz.
You can watch the video of the first live performance of Alter Ego below:
Cyprus will perform in position 11 at the first semi final on 10th of May, following the entry from Czech Republic and before the entry from Austria.