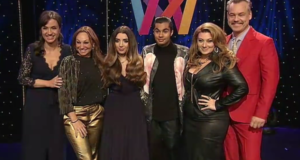 Today Swedish broadcaster SVT held a press conference to announce the hosts of Melodifestivalen 2016. Gina Dirawi will be the lead host of the Swedish national final while a big line up of well known names will accompany her.
Gina Dirawi will be the lead host of the Swedish national final, while Petra Mede, Charlotte Perrelli, Henrik Schyffert, Sara Dawn Finner, Ola Salo, Peter Jöback and William Spetz will accompany her in Melodifestivallen, the Swedish selection for the Eurovision Song Contest. That was presented today by Swedish broadcaster, SVT.
The Swedish broadcaster, in order to celebrate the 15 years since the competition became bigger, with semi-finals, the Andra Chansen round and travelling across the country, decided that in this year's edition every show will have a co-host. So apart from Gina Dirawi who will be the lead host for all shows, famous Swedish presenters and singers with Eurovision experience will take part in hosting Sweden's most famous music festival, Melodifestivalen.
Gina Dirawi already hosted Melodifestivalen in 2012 and in 2013. Sarah Dawn Finer participated in the competition in 2007 and 2009 and was an interval act during Eurovision Song Contest 2013, singing The Winner Takes it All. Petra Mede has hosted Melodifestivalen 2009, Eurovision 2013 and the 60th anniversary celebration in London, with Graham Norton. Henrik Schyffert has hosted Melodifestival in 2005. Charlotte Perelli has won Melodifestivalen 1999 and 2008, winning on the first occasion. Ola Salo represented Sweden in 2007 as part of The Ark while Peter Jöback participated in Melodifestivalen 1990 and 2010. William Spetz is a famous YouTuber not only in Sweden, but also abroad.
The Swedish national selection for the Eurovision Song Contest is formed by several shows held in various cities of the country. This year, Halmstad makes its debut as host city of Melodifestivalen, holding the Second Chance show (Andra Chansen).
Melodifestivalen is the biggest event in Sweden and it's a very popular celebration for the host cities. As a public broadcaster, it's very important for us the encounter with all the Swedish citizens. That's why, after fourteen years, we want to bring the show to new cities, says the new Melodifestivalen director Anette Helenius.
Dates for Melodifestivalen 2016
Semi-Final 1: February 6, Göteborg, Scandinvium (2003–2015), Petra Mede co-host
Semi-Final 2: February 13, Malmö, Malmö Arena (2004, 2009–2015), Charlotte Perelli co-host
Semi-Final 3: February 20, Norrköping, Himmelstalundshallen (2002, 2009), Henrik Schyffert co-host
Semi-Final 4: February 27, Gävle, Gavlerinken Arena (2007), Sara Dawn Finer co-host
Andra chansen (Second Chance): March 5, Halmstad, Halmstad Arena (Debut),  Peter Jöback & Ola Salo co-hosts
Final: March 12, Stockholm, Friends Arena (2002–2015; 2002–2012 and Ericsson Globe) William Spetz co-host
Sweden in the Eurovision Song Contest
Sweden has participated in the contest 57 times since making its debut in 1958, missing only 3 contests since then (1964, 1970, 1976).  Since 1959, the Swedish entry has been chosen through an annual televised competition, known since 1967 as Melodifestivalen. Sweden has a total of six victories in the contest, right behind Ireland who have seven wins. Sweden is also the contests most successful country of the 21st century, with two wins from eight top five results. In total, Sweden has achieved 22 top five results in the contest.
In 2015 after Måns Zelmerlöw's victory in Melodifestivalen with his song Heroes, he represented Sweden in the Eurovision Song Contest in Vienna. Måns Zelmerlöw won the contest with 365 points.
Sweden is the only country to have hosted the event in five different decades, three times in Stockholm (1975, 2000, and 2016), twice in Malmö (1992 and 2013) and once in Gothenburg (1985).
Below you can watch Måns Zelmerlöw performing the winning song of Eurovision Song Contest 2015 for Sweden: