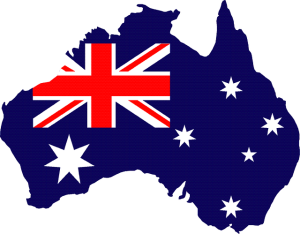 This year, Australia took part in the Eurovision Song Contest as a one year special thing. Today the European Broadcasting Union announced that they will also take part in next year's contest. Furthermore they now talk about the event going global, so who is next?
It was with quite mixed reactions, Australia's participation for the 2015 Eurovision Song Contest was received, however it appears that the European Broadcasting Union decided to only see the positive reactions as Executive Supervisor of the contest, Jon Ola Sand see it as "overwhelmingly positive".
The feedback we got from viewers, fans, press and the broadcasters after Australia's participation in Vienna was overwhelmingly positive.
Now, what was mentioned as a one time event to celebrate the 60th Eurovision Song Contest is now repeating as Australia also will participate in the 2016 contest to be held in Stockholm, Sweden in May next year, but where Australia last year was guaranteed a spot in the final, and even allowed to vote in both semi-finals, they will now compete in one of the semi-finals in order to qualify for the final.
The number of participating countries for Stockholm is now up to 41. With the rules allowing for 46 there is space for five more, and according to Jon Ola Sand more countries from outside the European broadcasting area could potentially join as well as now he is suddenly talking about the global potential of the Eurovision Song Contest:
We strongly believe the Eurovision Song Contest has the potential to evolve organically into a truly global event. Australia's continued participation is an exciting step in that direction, It remains to be seen what such an event may look like in the long run.
From Australia, CEO and Managing Director SBS, Michael Ebeid shares EBU's joy about Australia's participation in the 2016 contest:
SBS is thrilled to have secured this opportunity for Australia to compete at Stockholm in 2016 and thank the European Broadcasting Union for their invitation. The Eurovision Song Contest is a wonderful example of cultural diversity and social inclusion and our continued participation offers a fantastic opportunity to showcase Australian musical talent in a truly international multicultural celebration. Production partner Blink TV have been integral in supporting our ambition to build Australia's presence on the world's biggest stage and together we look forward to again bringing the Eurovision experience to our screens.
It is also mentioned that just as last year, Australia is taking part with the condition that if they are to win, they will be co-hosting the contest somewhere in Europe. The 2017 Eurovision Song Contest can not take place in Australia.
This year Australia was represented in the Eurovision Song Contest by Guy Sebastian and the song Tonight Again, which ended 5th in the final. In the video below you can watch the performance of that.
On Saturday, Australia will also get it debut at the Junior Eurovision Song Contest where Bella Paige will represent the big country with the song My Girls.