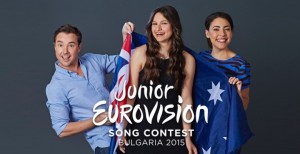 With less than 2 weeks left for the 2015 Junior Eurovision Song Contest, Australian broadcaster, SBS, have announced who will be involved with their broadcast at their debut at this year's Junior show on the 21st of November in Arena Armeec at Sofia, Bulgaria. 
Ash London and Toby Truslove have been chosen to co-host and comment for Australian broadcaster, SBS, at Junior Eurovision 2015. Ash London is known as a television and radio presenter specialising in music chart coverage. Toby Truslove however, made his name through theatre and film acting while also being a huge Eurovision fan.
Ash said after their's announcemet:
I was on the jury for big Eurovision earlier this year, so I'm familiar with the general madness and fabulousness of Eurovision performances, and with tweens on stage this time it's just going to be smaller, cuter and more impressive. I'm hoping for lots of synchronised choreography, big key changes, pyrotechnics, wind machines and fingers crossed we discover some mini Biebers and T Swifts
Toby mentioned that their participant has the best voice in the contest this year and he is very optimistic about Australia's result.
With an Aussie in the contest, I'm going to be on the edge of my commentary box seat, which is a pretty painful way to sit. I've been checking out the competition, and in my strictly professional and definitely not biased opinion, Bella's got the best voice, best song and will smash it big time. People should tune in to watch her knock it out of the park… as long as they understand there isn't an actually a park- much more like a stadium, in Bulgaria. I'm also petitioning the organisers that Bella should get extra points for jetlag. Maybe take a couple of points off Greece or Romania – it's basically a stroll for them to get to Bulgaria.
SBS also revealed the jury:
Richard Wilkins (chairperson) – TV presenter;
Murray Cook – Vocalist, guitarist & Founding member of children's band Red Wiggle
Monica Trapaga – Playschool alumnus
Ben Thatcher – Children's entertainer
Natasha Cupitt – Vocal coach and choir conductor
Mara Van Duyl 15-year-old musician & singer who will also represent Australia on the International Kids Jury.
Ellie Blackwell has been revealed as Australia's spokesperson; a 15-year-old Australian based in Bulgaria.
Australia in the Junior Eurovision Song Contest
Australia announced on 7th of October 2015 that they will debut at the Junior Eurovision Song Contest 2015 to be held in Sofia. SBS would be responsible for the selection of their first participant. They have previously broadcast every edition of the Junior Eurovision Song Contest on a broadcast delay.
On 9th of October the broadcaster announced officialy that they will be sending Bella Paige, who turned 14 in October and is known in her native country for her participation in The Voice Kids 2014 where she finished as a runner up. Bella will sing My Girls in Sofia, a song who was co-written by Australian pop sensation Delta Goodrem, who collaborated with Grammy Award nominated musician Mitch Allan and producer Vince Pizzinga for the song.
Below you can watch Australia's entry to the Junior Eurovision Song Contest 2015: