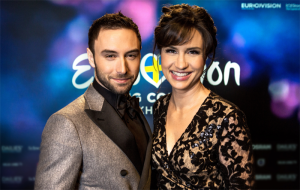 It's official. Today came the official confirmation for Måns Zelmerlöw and Petra Mede to host the 2016 Eurovision Song Contest. They have been called "the obvious choice", but which background do they each have for hosting? EuroVisionary take a closer look at them.

The hosts of the 61st Eurovision Song Contest have been announced today by host broadcaster SVT. The press conference took place at the venue for next year' s Eurovision Song Contest, the Globen Arena in Stockholm. Måns Zelmerlöw and Petra Mede will host the Eurovision Song Contest 2016 since Sweden won the contest back in May this year.
Thoughts from the hosts
Måns Zelmerlöw and Petra Pede talked at the press conference about their thoughts about hosting the Eurovision Song Contest:
I'm so incredibly happy to be part of the Eurovison Song Contest once more and to be doing it together with Petra Mede, whom I consider an outstanding host and also one of the most delightful people I know.

Måns Zelmerlöw
Måns is extremely professional so the one to be worried about is me, and what I'm going to wear. It's like when I once dared to try a rollercoaster for the first time and someone then – when I'm standing there euphoric of happiness – comes and tells me: "You can go one more time, and this time together with a gorgeous guy!".

Petra Mede
Below you can watch the messages Petra and Måns sent to all Eurovision fans after the official announcement:
Executive Producer of the contest Martin Österdahl added:
Viewers in Europe will recognise Petra Mede from her acclaimed effort in 2013 and Måns Zelmerlöw as the defending champion. With their capability we can build on recognition and deliver something unexpected that Europe hasn't seen before.
Måns won the contest for Sweden in Vienna, this year with the song Heroes. Petra Mede hosted the contest the last time Eurovision was in Sweden in 2013 and earlier this year hosted Eurovision's Greatest Hits alongside with Graham Norton in London. Petra has also been announced as one of the guest hosts for Melodifestivalen 2016. But what else is on their TV CV?
Måns Zelmerlöw TV CV
Idol (2005), Let´s dance (2006), Melodifestivalen Cara Mia (2007), Melodifestivalen Hope & Glory (2009), Melodifestivalen 2010 (host), Allsång på Skansen (host 2011-2013), Melodifestivalen & Eurovision Song Contest Heroes (2015) Besides from that Måns has taken part in musicals like Grease (2006), Footloose (2007), Romeo & Julia (2011) and Spök (2013-2014). He has released a total of seven albums.
Petra Mede TV CV
Högklackat (2012), Guldbaggegalan (2011, 2012, 2015), Maestro (2011 & 2013), QX-galan (2009 & 2010), Välkommen åter (2010), Petra Mede Show (2010), Melodifestivalen 2009 (host), Morgonsoffan (2008), Hjälp (2008-2009), Parlamentet (2007-2009), Extra! Extra! (2007-2008), Stockholm Live (2007), Familjen Rysberg (2015), Eurovision Song Contest 2013 (host) and Eurovision Song Contest´s Greatest Hits (host together with BBC-legend Graham Norton).
Below you can watch the video of Måns' performance of Heroes from Vienna – the song which secured him the victory at the 2015 Eurovision Song Contest.