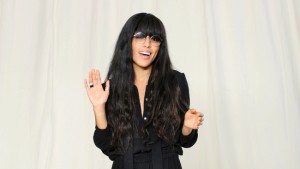 Sweden's  Eurovision 2012 winner Loreen is back with a new dance collaboration. After her 2012 Eurovision win, but with the lukewarm reception for the follow up PaperLight, she is teaming up with French Producer and DJ Boston Bun for his new single Get into it.
In 2012 Loreen took the Eurovision world by storm. With a simple stage and dance, but with a powerful song, Euphoria, she earned 372 points, giving Sweden their fifth victory. Loreen won many fans, and since that win in Baku, Azerbaijan, she has continued to release several new songs. This will be Loreen's 5th collaboration, having teamed up with Freestyle in 2004, Rob'n'Raz in 2005, Kleerup in 2013 and Ingá-Máret Gaup-Juuso in 2014.
25 year old French Record producer Boston Bun aka Thibaud Noyer is well known for his collaborations. These are all released on a record label he co-owns with Pedro Winter, called Ed Banger records. The record label won the MTV Europe Music Awards Best Video in 2006 for the track Never Be Alone by the electro-rock band, Simian. Now, the Eurovision winner, Loreen joins Boston Bun for this up tempo dance collaboration which is sure to keep those clubbers dancing.  You can buy the the collaboration between Boston Bun and Loreen from the usual platforms.
I started to play bass guitar at 13, then I discovered Electronic music at 17, and it took me 10 different bands and projects to finally find my way. My main influence is House Music, especially Vocal House, everything between 120 and 125 bpm that talks about pleasure, love and desire. With a big warm bassline.

Boston Bun
Listen to the track here and see if you think it will be as successful as her Eurovision winner.