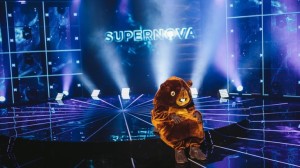 Supernova 2016, the second edition of the new Latvian national selection for Eurovision, will return to the screens tonight. Ten artists will fight for just four places in the semi-final of February 21st.
Tonight, Latvia becomes the latest country to start its search for the 61st edition of the Eurovision Song Contest in Stockholm. From more than 100 submissions, the Latvian broadcaster LTV has already selected the 20 best songs, which will compete in two heats.
The two heats, to be held on 7th and 14th February 2016, will each feature ten competing entries, from which four will advance to the semi-final from each show. The semi-final, to be held on 21st February 2016, will feature the eight qualifiers from the heats, from which the top four will proceed to the final. The final will take place on 28 February 2016 when the Latvian entry for Stockholm will be chosen from the remaining four entries. The four shows will take place at LTV Studio 6 in Riga and will be hosted by Ketija Šēnberga and Toms Grēviņš.
Results during the heats and the semi-final shows will be determined by a jury panel and votes from the public. In the heats and the semi-final, the songs will first face a public televote where the top two entries will qualify. The jury will then select an additional two qualifiers from the remaining entries to proceed in the competition. In the final, public televoting will exclusively determine which entry will be the Latvian representative to Stockholm.
The jury panel consists of:
Kaspars Roga – drummer for Brainstorm (Latvia 2000) and director of music videos,
Ieva Kerēvica – singer and vocal teacher,
Intars Busulis – singer (Latvia 2009), trombonist, radio host,
Guntars Račs – musician, songwriter, producer and music publisher.
The running order for tonight's heat is as follows:
You can watch the first heat of Supernova tonight at 20:25 CET from the official site of the Latvian broadcaster. Everyone can vote during the show when the start of the voting process is announced through Facebook and Twitter on Supernova's site.
Latvia in the Eurovision Song Contest
Latvia has participated in the Eurovision Song Contest 16 times since making its debut at the contest in 2000, when the group Brainstorm finished third with the song My Star. The country's only Eurovision victory was in 2002, when Marie N won with the song I Wanna, defeating Malta by 12 points. Latvia is the second former Soviet country to win the contest. The 2003 contest was held in the Latvian capital, Riga.
Last year, the country qualified for the final for the first time since 2008 with Animata and the song Love Injected. In the final, she finished sixth, Latvia's fourth top ten placement and best result in the contest since 2005.
Check out below EuroVisionary's selected highlights of Latvia for clips you may have never seen before!