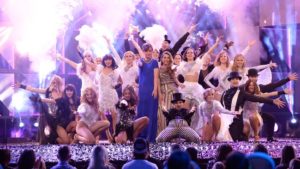 With a disqualification just two days ago, first Melodifestivalen heat this year only featured six artists. Direct through to the final, in a show that also told the viewers exactly what faults Eurovision are responsible for, are Ace Wilder and Robin Bengtsson. 
After Thursday's set of rehearsals, muffling was heard inside the arena in Gothenburg, Sweden's second largest city. One of the entries sounded a bit too familiar, and few hours later Swedish broadcaster, SVT, called in for an extra ordinary press conference. Anna Book and her song Himmel För Två (Heaven for two) was disqualified as the song took part in the Moldovian national selection in 2014, and as such had been – and still was – publicly available way before the autumn as restricted by EBU. If you want to read more about that case, please go to our article from Thursday evening.
The songs
Samir & Viktor – Bada Nakna
These two young guys also took part in last year's Swedish selection where they reached the final with the up tempo song Groupie, and this one is in the same category of songs, an up tempo song about having fun. They are casual dressed and have four dancers, two of each sex, with them on stage. Fountains of water and a small pool is used leaving them all a bit wet so Samir & Viktor take off their shirts revealing that they are both well trained men. Parts of this dancing water element definitely reminded of Emmelie de Forest's Rainmaker performance which was theme song at the 2014 Eurovision Song Contest.
Pernilla Andersson – Mitt Guld
The second song tonight is also in Swedish. The title translates to "My Gold" and Pernilla explains that it is written to her son. Pernilla also has previous Melodifestivalen experience as she took part in 2011. Back then she reached the second chance round. Tonight Pernilla was dressed in a knee length red lace dress. She played the guitar herself and had four musicians with her. It is actually quite beautiful in this setting where the stage is kept in red and yellow.
Mimi Werner – Ain't No Good
She has no previous experience in Melodifestivalen, but she has a drive which can take her far. This song is written in Nashville, USA, and you can clearly hear the American sound in this song which is country meets modern pop. Mimi is dressed in red trousers and a short red top. She has five male dancers with her who certainly fill the stage. This is one that grows on you in the stage performance where it comes across as more catchy.
Albin & Mattias – Rik
These two men both have previous Melodifestivalen experience, Albin only as songwriter though whereas Mattias has participated solo as well as part of the band E.M.D. They told beforehand that for them to have succeeded this song should make people have a party, stand up, dance and throw crisps at each other. Every viewer probably didn't have such a party, but Albin and Mattias surely looked like they enjoyed the stage on this rap /pop song also performed in Swedish.
Robin Bengtsson – Constellation Prize
With songwriters like Bobby Ljunggren (46 Melodifestivalen entries) and Henrik Wikström (32 Melodifestivalen entries) expectations for this song was quite high. Robin was dressed in a white shirt and black trousers. Very stylish, like David Beckham meets James Bond. He plays the harmonica and really do deliver a solid performance. He should be in with a good chance of making it direct to the final.
Ace Wilder – Don't Worry
The runner up in the 2014 Swedish final is back. Back then her entry was Busy Doin' Nothin. That title didn't fit her performance this time where she is everywhere – and in many versions as video cubes of her are turned on and off throughout most of the song. It is difficult to describe, looks awesome though, and honestly, you get so occupied watching that you forget listening to the song. In the re-price it was shown though that she had five female dancers with her, and all were dressed in black just like Ace.
The show
This first heat in Melodifestivalen 2016 was held in Gothenburg, Sweden's second largest city. Tonight's show was held in the arena Scandinavium with an audience of approximately 14.000. Gothenburg have been hosting one of the preliminary heats in Sweden every year since 2003.
Host of the show tonight was Gina Dirawi and Petra Mede, the first being a well known and experienced Melodifestivalen host (who is the returning host for all Swedish heats this year), the latter also known for hosting the 2013 Eurovision Song Contest.
The show kicked off by the hosts sitting at a bus top singing a song about a dark and cold winter which ends as Melodifestivalen starts. Dancers in white and black enters the stage and after an up tempo chorus Melodifestivalen is declared open and we were ready to start.
Each participant tonight was introduced with a short video with them telling about the song. After the first four songs Swedish comedian Jonas Gardell went on stage for a lecture of his "Schlager school".
After all six performances a sketch song about how everything is Eurovision's fault was performed. Extremely good entertainment and if you know enough Swedish in order to follow subtitles as they were added, you will enjoy this.
As the second round of voting, Anna Book came on stage performing her disqualified entry Himmel För Två. It is pure schlager and Anna's white sparkling dress and the four male dancers also in white sparkling suits (The Dutch Toppers – Eurovision 2009 – must borrow these) just make this a pure joy for everyone sucking up to this kind of Schlager which Sweden is famous for.
Before we get to the final result we are treated with The Ketchup song, Aserejé, if anyone remember that smash hit? The hosts surely did.
The result
After the first performance from all six songs taking part, voting opened. To the second round of voting: Robin, Samir & Viktor, Ace Wilder, Albin & Mattias and Mimi Werner. So out in first round was Pernilla Andersson.
Direct to the final: Ace Wilder and Robin Bengtsson.
To Second Chance round: Albin & Mattias and Samir & Viktor.
Sweden in the Eurovision Song Contest
With six Eurovision victories, Sweden is catching up on Ireland who is front with seven wins. Sweden joined the contest in 1958, didn't participate in 1964 and 1976, and as such have 55 appearances on their Eurovision card. Since the introduction of semi-finals in 2004, Sweden failed to qualify only once which was Anna Bergendahl's This Is My Life, which finished just outside the 10 qualifiers in 2010.
Sweden's first victory came in 1974 where ABBA's Waterloo took Europe, and later the rest of the world, by storm. After that another 10 year passed before three brothers in golden shoes captivated in particular the hearts of teenage girls when Herreys won with the catchy song Diggi-Loo Diggi-Ley. In 1991 fan favourite Carola won with the Swedish languaged Fångad Av En Stormvind, and in 1999 the Eurovision trophy once again headed to Sweden when Charlotte Nilsson (Now Perrelli) secured it with Take Me To Your Heaven. In 2012 it was then Loreen's smash hit Euphoria which most of Europe listened to – and voted for, and finally, just three years later Måns Zelmerlöw and his song Heroes brought the contest back to Sweden.
Below you can watch a video with Swedish highlights from the Eurovision Song Contest 2010 – 2015. The video include clips from more than just their actual Eurovision performance, and as such, most likely something you haven't seen before. Enjoy, while we wait for next week's second heat of Melodifestivalen 2016. This time, hopefully, with seven participants.