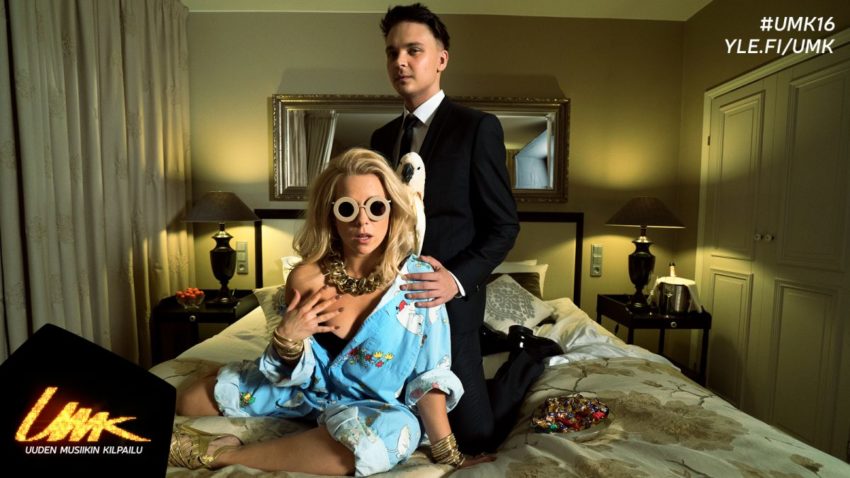 Krista Siegfrids, who represented Finland in the 2013 Eurovision Song Contest with the song Marry Me will be hosting the Finnish national selection, UMK 2016. Co-host will be Roope Salminen, a famous Finnish actor/singer/rapper. Participants of UMK will be announced on the 12th of January.
The Finnish broadcaster YLE TV, announced yesterday during a special show that the hosts of next year's UMK which is the show that is used as the national final for the Eurovision Song Contest will be Krista Siegfrids and Roope Salminen. It will be the first time Krista presents a show like this, but her expectations are high. Roope on the other hand, is familiar in hosting events like that, as he previously hosted season 4 of  Uuden Musiikin Kilpailun during spring 2015.
It was also announced that the candidate songs for representing Finland in Stockholm next May will be revealed on YLE's website at 12:00 on Tuesday the 12th of January while UMK 2016 will start airing on YLE TV2 in February.
The presenters have not yet heard the songs, but they are excited to. Krista said:
It will be so much fun to host the show with Roope – he's such a funny guy! I have high expectations and I can't wait to meet all the contestants and to hear their songs. The Eurovision Song Contest and UMK are amazing shows designed for all sorts of crazy & fun stuff! Let's get this carnival started!
Krista and Roope recorded a song together in order to promote the new edition of UMK. Among the writers is Roope Salminen himself, who praises the vocal ability of his colleague Krista.
The song has been finalised with Jarkko Enqvist and it was nice to compose. It's a good pop song, and it was nice making music with Krista. She is clever and a self-ironic singer, Roope said about it.
Finland in the Eurovision Song Contest
Finland has participated in the contest 49 times since its debut in 1961. Finland won the contest for the first and only time in 2006 in Athens with Lordi's Hard Rock Hallelujah. Before that Finland was considered by many as the ultimate under achiever of Eurovision as the country had never managed to enter the top5 of any contest. Their best result after the winning entry in 2006 was a 6th place in 1973 with the song Tom Tom Tom.
Finland has placed last a total of eight time. There even was a popular joke circulating in Finland, where a man frees a genie from a bottle:
Genie: Thanks for freeing me! I will now grant you one wish.
Man: Bring the Finnish Karelia back to Finland*
Genie: That's too big a wish, maybe a smaller one?
Man: OK, let Finland win the Eurovision Song Contest even once!
Genie: Hmm… let me see that map again…
*Finnish Karelia was a territory ceded to the Soviet Union during the Cold War
Since the introduction of the semi-finals in 2004, Finland has failed to reach the final five times. In 2014, the country had its best result for eight years when Softengine finished 11th. This year Pertti Kurikan Nimipäivät after their landslide victory in UMK 2015, represented Finland at Eurovision in Vienna. The punk rock band with 13 points ended 16th out of 16 entries and failed to qualify from the 1st semi-final.
Below you can watch Marry Me? which was Krista's entry at the 2013 Eurovision Song Contest in Malmö where she ended 24th in the Final