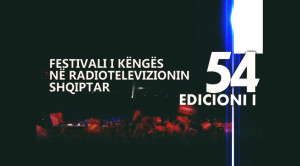 The Albanian National Broadcast RTSH revealed a new piece of the puzzle for the next edition of Festivali i Këngës. A trio consisting of Pandi Laço, Gresa Pallaska and Blerta Tafani will be hosting the 54th edition of the prestigious long running Albanian music festival.
Like last year, this year RTSH also decided for a male and two females to host Festivali i Këngës, which act as the national selection which they country use for Eurovision .
Pandi Laço will be the screenwriter for this year's Festivali and he is already familiar with the Eurovision Song Contest. He has written 3 of Albania's Eurovision songs in 2005 (Ledina Çelo –Tomorrow I Go), 2007(Frederik Ndoci – Hear My Plea) and 2008 (Olta Boka – Zemrën E Lamë Peng). He also wrote the Albanian Junior Eurovision song Dambaje sung by Mishela Rapo,who will represent Albania in this year's Junior Eurovision Song Contest held in Sofia,Bulgaria. Pandi Laço is a well-known TV persona in Albania and has been a judge for the Albanian X-Factor since 2012.
Gresa Pallaska is a Kosovar – Albanian actress known for her role of Trandelina in the Kosovar tv-series Modern Family. Last year RTSH chose Liberta Spahiu from Kosovo to be one of the hosts. This marks the 2nd year in a row that a Kosovar – Albanian will host Festivali i Këngës.
Blerta Tafani is an experienced journalist having worked under big private TV channels and currently is a news anchor in RTSH.
Festivali i Këngës will take place on December 25th, 26th and 27th at Pallati i Kongreseve. Nine songs will qualify through each of the 2 semi-finals and 18 songs will compete in the final for the trophy that will guarantee the ticket to Stockholm in May.
Albania at the Eurovision Song Contest
Albania's participation in Eurovision Song Contest boasts 12 entries since the country's debut in 2004. Albania's best result is a 5th place in 2012 with Rona Nishliu and her song Suus with 146 points. Festivali i Këngës has been used every year since the country's debut to select the representative for the Eurovision Song Contest.
Elhaida Dani represented Albania this year in Vienna with her song I'm Alive written by Zapp&Chris, gaining 34 points and placing 17th in the Grand Final.