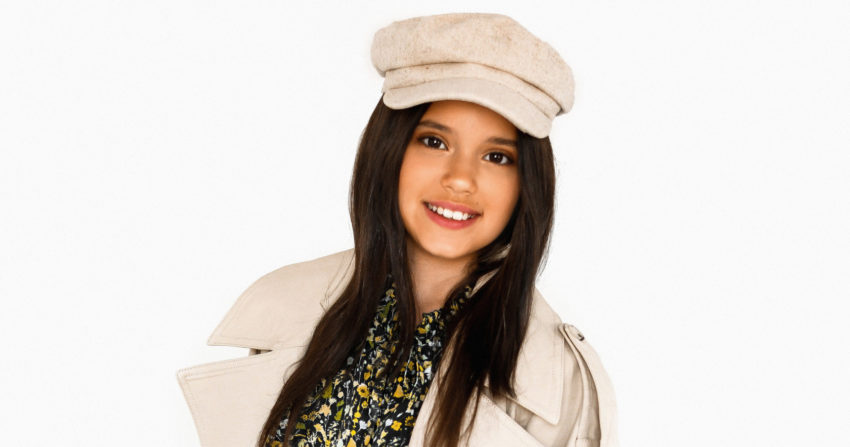 A Disney Princess, an 11 year old singer with Polina Gagarina as role model – but maybe this year's Russian Junior entry isn't quite right for Junior Eurovision Song Contest?
11 year old Sofia Feskova is from St. Petersburg, Russia. She made it to represent her country at the 2020 Junior Eurovision Song Contest by winning a national final back in September. If it's up to Sofia, the Junior contest is just first step in her career which she hopes will bring her to the Eurovision Song Contest one day.
Sofia's big idol is Polina Gagarina, who came second for Russia in 2015 with the song A Million Voices. If Sofia's dream come through, she will – some day – be on the same stage as Polina. Sofia's playlist however also includes artists like Whitney Houston and Billie Eilish.
My New Day – opinions from fans
In order to find out what Eurovision fans think of this Russian Junior Eurovision entry, we asked our Eurovision Fan Panel. It includes team members as well as fans from all over the world.
🇩🇰 Charlotte J. –  I haven't watched Junior Eurovision in many years, but if this is representative of the quality nowadays, maybe I should return to it? On the other hand, then this is also exactly why I dropped the show all those years ago: Too many adult songs, which they just put a cute child to sing. This song might as well have appeared at the Eurovision Song Contest. She is adorable, but the song is 'too adult' for me. I kind of like it, but it doesn't work as an entry for Junior Eurovision, in my opinion.
🇬🇧 Michael O. – Has Junior become a contest on who can send the most anguished ballad. This very much reminds me of Slovenia 1995, check that out for yourselves, and that was very dated – but Sofia occasionally shows her youth which keeps it fresh and young.
🇩🇪 Andrew G. – This is your typical east block style power ballad. Wrap in cotton candy colours. And making Sofia Feskova look like a Russian princess. She looks like the younger sister of Dina Graripova. And the song reminds me a little of What if from 2013. And I mean a little. It's cute but not a winner.
🇳🇱 🇩🇰 Wouter V. – So, this song features some adorable children's drawings and a girl apparently singing about the simple joys of life, while living out every princess dream any child has ever had. It's cute, and Sofia really seems to enjoy herself. For me personally this song is too simple and gooey. But I won't judge anybody for dreaming along.
🇵🇹 Linete A. – It's one of my favourites for this year. Sofia has a beautiful voice and presence. The official video is amazing and I love the song from beginning to end. Reminds me of Disney songs and the instrumental is also very beautiful. The song varies a lot throughout and the lyrics give us hope for the future and you can even feel that hope in the song! Really love it in every aspect and hope it will come out in the top spots.
🇨🇴 🇫🇮 Álvaro S. – The music video for this song is cute and I would give extra points to Russia for singing in their language. If only they did it at the adult's contest too. I like that this song has a good quality and that Sofia looks natural in her interpretation. This could be a Disney soundtrack.
🇨🇿 Josef Š. – Sofia is really good singer and she was lucky to get such a good song. It's only a pity, that it's usual, that Russia sends high quality entries to JESC. Therefore she might suffer from it, and from others being different. But as Russia is usually successful, she may end up around the middle of a scoreboard, which would be appropriate.
🇬🇧 Paul G. – I'm not a fan of JESC if I'm honest, however this is a pretty ballad and she has a lovely voice. I hope she does ok!
🇹🇷 Gunec G. – Another cute little talent this time from Russia. Watching Sofia's national final performance, you can sense her excitement. However, she can handle the power ballad she sings. Hoping the best for Sofia next Sunday.
In the video below, you can listen to Sofia Feskova's entry My New Day. Below the video you can read more about Russia at the Junior Eurovision Song Contest.
Russia at the Junior Eurovision Song Contest
The Eurovision Song Contest could add Russia to the list of participating countries in 2005. The country has been a steady participant ever since.
15 participations, and 9 of them providing a top 5 result, speaks for itself. Russia is doing quite well at the Junior Eurovision Song Contest. They have won twice; in 2006 and again in 2017. Their 2006 winner act will sound familar to Eurovision fans: Tolmachevy Twins. 8 years after winning Junior Eurovision Song Contest, they represented their country Russia at the Eurovision Song Contest. With the song Shine, they finished in 7th place.