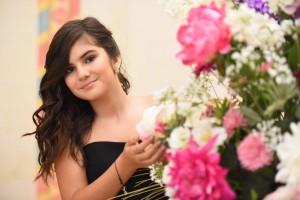 San Marino's representative at the 2015 Junior Eurovision Song Contest will be an 11 years old girl from Russia, Kamilla Ismailova. She is a young singer, actress, and TV presenter from Moscow who herself took actions to represent San Marino.
The national Broadcaster of San Marino revealed this afternoon that Kamilla Ismailova will be their third representative at the Junior Eurovision Song Contest.
Despite being born and raised in Russia, Kamilla will represent San Marino in Junior Eurovision 2015. Kamilla visited San Marino in her early childhood, and since then this small country has taken a place in her heart. The language, the feeling, the people and their pace of life, and the traditions of the country all made a big impression on Kamilla and her parents, who promised herself that someday she would be connected with the country again. That time has now come.
While she took interest in the culture of San Marino and its history, Kamilla also always dreamt of performing at Junior Eurovision. Having watched the contest for years, she wondered how children of her age could get to such a wonderful contest and then she had an idea. When she learned that San Marino confirmed its participation in this year's contest, she decide to send her new song to the television station in San Marino.
Producers of the San Marino broadcaster contacted her parents and informed them that she was approved by the channel management to represent San Marino at the 2015 Junior Eurovision Song Contest. From then on, the hard work started. Translating the song into Italian, and further learning the language, having vocal lessons and choreography classes and of course shooting the video.
Aside from Junior Eurovision, Kamilla and her friends from the S. T. A. R. S Academy of cinema and show-business host a music chart called Kids Top 10 with Yana Rudkovskaya, and also present a fashion/music program called TrYnd-Fashion.
San Marino in the Junior Eurovision Song Contest
San Marino debuted at the Junior Eurovision Song Contest 2013 held in Kiev. San Marino had previously tried to take part in the contest back in 2011, however the national broadcaster pulled out before the contest as they had not found a representative in time. In both 2013 and 2014, San Marino selected its entrant in an internally.
Their best result until now is a 10th place with Michele Perniola in 2013, at their debut. Michele Perniola represented San Marino at the 2015 Eurovision Song Contest along with Anita Simochini who also represented San Marino as a member of The Peppermints in the Junior Eurovision Song Contest 2014.
Below you can watch Kamilla Ismailova with her song Mirror, which is the Sanmarinese entry in Junior Eurovision Song Contest 2015: