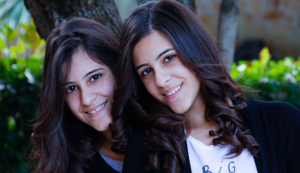 Two weeks ago the Italian Broadcaster RAI, revealed the song that will represent the country at the 2015 Junior Eurovision Song Contest. The Twins, Chiara & Martina will sing Viva in Sofia. Today RAI released the official video of the song.
The Twins won the right to represent Italy in the contest after their win in Ti Lascio Una Canzone, which is a talent show that was used as the national final for the Junior Eurovision Song Contest. The song was presented two weeks ago and today RAI published the official video. Viva is written by well-known Italian singer and songwriter Gigi D'Alesso.
Italy in the Junior Eurovision Song Contest
Italy debuted last year at the Junior Eurovision Song Contest in Malta. The Italian broadcaster, RAI selected the debut entry of country via an internal selection. Vincenzo Cantiello with his song Tu Primo Grande Amore was the winner of the contest with 159 points. That made Italy the first country that won with their debut entry after Croatia's victory in the first contest in 2003.
Below you can watch Viva, the Italian entry at the 2015 Junior Eurovision Song Contest: