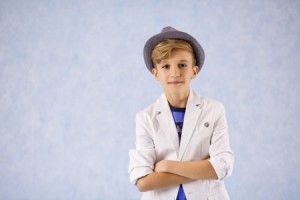 Misha Smirnov has just presented the final version of his song Dream on his official website. The musical arrangement has been made by Greek composer Dimitris Kontopoulos who is well know in the Eurovision community for his successful past participation in the contest.
12 year old MIsha got the ticket to represent his country at the 2015 Junior Eurovision in Sofia when he won the Russian national final with his song Dream. Through his official Facebook page a few minutes ago, Misha announced the revamped version of his song, the same version with which he will compete in Sofia on 21 November.
It was revealed that the arrangement has been made by the Greek composer Dimitris Kontopoulos and it includes some parts sung in English. Dimitris Kontopoulos is a famous composer in the Eurovision world as he composed some former very successful entries such as Shady Lady (Ukraine 2008), This is our Night (Greece 2009), Hold Me (Azerbaijan 2013) and Shine (Russia 2014).
Misha said of his collaboration with Dimitris Kontopoulos:
I want to say a big thanks to the author of this arrangement, the Greek composer Dimitris Kontopoulos and to the Academy of Popular Music of Igor Krutoy, which helps me so much in preparing for the competition and had worked so hard to make the Dream much better! I love you.
Misha comes from Moscow. He started his involvement with music at the age of 3 when his parents sent him to singing lessons as a therapy. This is where his first vocal coach Julia Narnitskaya noticed that Misha has a good ear for music and a great voice. His mother Olga, a music school graduate, played the piano and she cultivated Misha's love of music as well. Gradually gaining skills, Mikhail began performing at various competitions and winning prizes. Misha has won a huge number of Grands Prix in various Russian and international vocal competitions. But he says that his major achievement is the final of the TV show Voice Kids Russia in the spring of 2015 and, of course, the victory at the Russian national final for Junior Eurovision 2015. In addition to singing, he acts professionally in musical theatre. Misha is in the 6th grade at school now. He is studying at a children's music school.
Russia in the Junior Eurovision Song Contest
This will be the 11th entry for Russia in the contest. They first competed at the 2005 edition. Victory came one year later in 2006, when the Tomachevy Twins won with their song Vesseniy Jazz. The Tomachevy Twins represented Russia at the 2014 Eurovision Song Contest in Denmark.
Russia is one of the most successful countries in the contest, as they have never been out of the top10. Their worst result was their debut 9th place.
You can hear the revamped and final version of the Russian entry at this year's contest in Misha's official website.