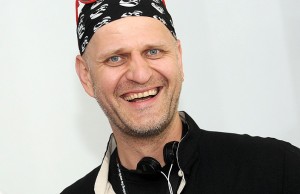 Jānis Vaišļa, best known as one-third of Pirates of the Sea (the band participated at the 2008 Eurovision Song Contest representing Latvia), has passed away at the age of 46.
Vaišļa had recently been diagnosed with cardiac amyloidosis, a rare and life-threatening disease. His condition progressing rapidly, Jānis was forced to seek a heart transplant donor throughout Europe.
Because of the urgency for the transplant, Vaišļa and his wife had recently travelled to Berlin in order to go through with the procedure. Unfortunately, he passed away on Saturday while waiting for his surgery.
Cardiac amyloidosis is a rare disorder caused by deposits of an abnormal protein in the heart tissue . Over time, these deposits replace normal tissue leading to organ failure.
Vaišļa was involved in various entertainment projects in Latvia including radio presenting and films. In 2008, his band Pirates of the Sea represented Latvia at the Eurovision Song Contest in Belgrade with the song Wolves Of The Sea. They finished in 12th place.