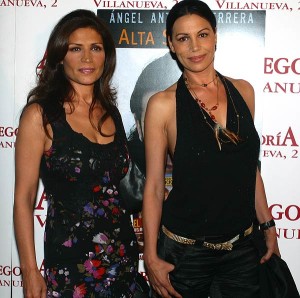 Azúcar Moreno, the Spanish brown sugar, is the famous duo who have sold more than 2 millon albums. The duo are always remembered for the sound problems at the Eurovision Song Contest in 1990. They didn't win the contest, but their song achieved popularity worldwide.
Azùcar Moreno, meaning brown sugar in Spanish, was founded by two sisters; Antonia and Encarna, from the large Salaza family whose members are also musicians. The sisters' music career began with singing for their brothers, but in 1982, they were discovered and signed by record label EMI Spain. The first two albums brought commercial success and were released in 1984 and 1986. In 1988, they signed with CBS-Epic and relaunched their music with a bolder production style and matching sexier image, and released the album Carne De Melocotón. They generally preffered to sing latin pop, traditional music, ballads and flamengo at that years.
In 1990, the duo joined the Eurovision Song Contest, which was held in Zagreb, Croatia (while it was still part of Yugoslavia). Their song, Bandido, wouldn't have been expected to bring worldwide fame to the sisters beforehand. During the contest, the start of their performance was marred by sound problems and they had to sing again. The contest was broadcast live to an audience of approximately 500 million viewers, but due to a tape technician not starting the recorded backing track in time, both the singers, their band and the live orchestra missed their queues. After two minutes of uncertainty, their performance started again, and BBC commentator Terry Wogan's comment has never been forgotten; "Let's hope it doesn't go on like this or we're in for a very long night, ladies and gentlemen". That created one of the biggest unforgettable moments in more than 50 years of the contest. After the contest with the 5th placing of the duo, their fame reached as far as Amerca from Europe and the turning point of their life has occured.
In 1991, with the new album Mambo, they even achieved a placing in the billboard charts in the United States and the rest of America. In that year, their fame reached Japan. Rhumba, mambo, bolero, merengue, reggaeton, salsa and dancehall was been added to their music styles with that album. After that, they combined original material sung in their typical flamenco vocal style with traditional folk songs like the Chilean Yo Vendos Unos Ojos Negros, the Italian O Sole Mio and the Hebrew Hava Nagila with different languages. 
Up to 2006, Azùcar Moreno have released 40 singles and 13 studio albums with combined sales of approximately 2 million albums in their native Spain alone and it also makes them one of the most commercially successful acts alongside Sweden's ABBA and Canada's Céline Dion to have their international breakthrough via the Eurovision Song Contest.
In 2006, Azúcar Moreno returned to EMI after 18 years with CBS-Sony, and were considered one of the top artists to represent Spain again in the Eurovision Song Contest. But RTVE's choice was for Las Ketchup, feeling the sisters' tribute to legendary Spanish singer, dancer, and actress Lola Flores, Bailando con Lola  was too flamenco-flavoured.
On November 28th 2007, Toñi Salazár, announced to the Spanish media that the duo would withdraw from the music scene until further notice due to her sister Encarna having been diagnosed with breast cancer. She was to go undergo chemotherapy and would then need time for recuperation.
In September 2008, it was announced that Encarna Salazar had made a full
recovery and has been given a clean bill of health, however, there
are no immediate plans for the two sisters to continue their musical
careers as a duo.
Their discography can be found below:
Singles
* 1984 "Azúcar Moreno" / "Luna Coqueta"
* 1984 "Que Si, Que No" / "No Quiero Que Me Quieras"
* 1984 "Canela" / "El Girasol"
* 1986 "Estimulame" / "Amame"
* 1988 "Aunque Me Falte El Aire" / "Limón Amargo"
* 1988 "Debajo Del Olivo" (Mix In Spain) / "Debajo Del Olivo" (Dub Mix)
* 1989 "Aunque Me Falte El Aire" (Lerele Mix) / "Aunque Me Falte El Aire" (Dub Mix)
* 1989 "Chica Vaivén" (Express Mix) / "Chica Vaivén" (Dub Mix)
* 1989 "Alerta Corazón" (Casablanca Mix) / "Alerta Corazón" (Dub Mix)
* 1990 "Bandido" / "Bandido" (Instrumental)
* 1990 "Ven Devórame Otra Vez"
* 1990 "A Caballo"
* 1991 "¡Torero!"
* 1991 "Mambo"
* 1991 "Tu Quieres Más (Porque Te Amo)"
* 1991 "Ahora O Nunca"
* 1991 "Lujuria"
* 1992 "Moliendo Café"
* 1992 "Hazme El Amor"
* 1993 "Veneno"
* 1993 "Azucarero" (Remix)
* 1993 "Mirame" (with Luis Miguel)
* 1994 "El Amor" / "Ando Buscando Un Amor"
* 1994 "No Sera Facil"
* 1994 "Hay Que Saber Perder"
* 1996 "Sólo Se Vive Una Vez" (The Caribbean Remixes) / (The Mediterranean Remixes)
* 1996 "Esclava De Tu Piel"
* 1996 "Hoy Tengo Ganas De Ti"
* 1996 "La Cita"
* 1997 "Bandolero"
* 1997 "Hava Naguila"
* 1997 "Muévete Salvaje" / "Bandido"
* 1997 "Tapame"
* 1998 "Mecachis"
* 1998 "No Pretenderás"
* 1998 "Olé"
* 1998 "Cumbaya" / "Ese Beso"
* 1999 "Agua Que No Has De Beber"
* 2000 "Amén"
* 2000 "Dale Que Dale"
* 2000 "Mamma Mia"
* 2001 "Ay Amor"
* 2002 "Bésame" (Mixes)
* 2002 "Volvería A Nacer"
* 2002 "Tequila" (Mixes)
* 2002 "Divina De La Muerte"
* 2003 "Mi Ritmo"
* 2003 "Sobreviviré"
* 2004 "Se Me Va"
* 2004 "El"
* 2006 "Clávame"
* 2006 "Bailando Con Lola"
* 2007 "20 Años"
Albums 
| Year | Album | Sales | Certification |
| --- | --- | --- | --- |
| 1984 | Con La Miel En Los Labios | 50,000+ | Gold |
| 1986 | Estimúlame | 50,000+ | Gold |
| 1988 | Carne De Melocotón | 50,000+ | Gold |
| 1989 | Mix In Spain (Remix album) |   |   |
| 1990 | Bandido | 300,000+ | x3 Platinum |
| 1990 | The Sugar Mix Album (Remix album) |   |   |
| 1991 | Mambo | 200,000+ | x2 Platinum |
| 1992 | Ojos Negros | 100,000+ | x1 Platinum |
| 1994 | El Amor | 100,000+ | x1 Platinum |
| 1996 | Esclava De Tu Piel | 500,000+ | x5 Platinum |
| 1997 | Mucho Azúcar – Grandes Éxitos | 50,000+ | Gold |
| 1998 | Olé | 200,000+ | x2 Platinum |
| 2000 | Amén | 300,000+ | x3 Platinum |
| 2002 | Únicas | 100,000+ | x1 Platinum |
| 2004 | Desde El Principio | 50,000+ | Gold |
| 2006 | Bailando Con Lola | 50,000+ | Gold |