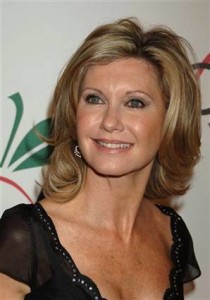 EuroVisionary continues its row of biographies – this time it is Olivia Newton-John. Being around for more than 40 years, she still knows how to make the headlines without it being for a scandal.
Born September 26 1948 in Cambridge, England, Olivia Newton-John (no alias here) was the youngest daughter of professor Brinley Newton-John, who during the second world war, worked on breaking the German 'Enigma' code machine, and took part in arresting the nazi leader Rudolf Hess when he parachuted into Scotland in 1941. Olivia's mother was German born, Irene Born, daughter of Nobel prize winning physicist Max Born. The Born family fled Germany in the 1930`s due to their Jewish ancestry.
The Newton-John family emigrated in 1954 to Australia, where Olivia took her first steps into showbusiness when, in 1962, she formed a girl band that did not last long, but helped Olivia to become a regular guest in local radio and tv.
Talentshows are not a new thing. Entering Australian talent show "Sing, Sing, Sing", Olivia won 1st prize, a ticket to England and the possibillity to make a record at Decca, which she did in 1966, cutting the song "Till You Say You`ll Be Mine".
Around 1970, Olivia Newton-John took part in a film/band project called "Tomorrow". It  was not very successful and the whole thing was quickly forgotten.
More helpful to her career was when Cliff Richard, in 1971, invited her to join him at his show at the London Palladium. Later the same year, Olivia released 2 new singles; IF Not For You and Banks Of The Ohio and her first album, just called "Olivia Newton-John".
Now successful as a singer and performer, doing well in the charts, Olivia got her own tv show, "Poetry and Music", and in 1974, she represented the UK at the Eurovision Song Contest, singing Long Live Love to 4th place.
In 1975, Olivia won the Country Music Association's "Female Vocalist of the Year", which caused her some problems with country music oldtimers, who didn't consider her a real country singer.
Olivia Newton-John blasted into stardom with the 1978 release of the musical film "Grease", where she played alongside US actor John Travolta in a very classical USA high school atmosphere set in the "lovely 1950's". The soundtrack is still among the best selling soundtracks in the world 30 years later, with songs like You're The One That I Want, Hopelessly Devoted To You, Summer Nights and many more.
"Xanadu" became Olivia's third film project, the critics didn't like it, but the fans and general public thought it was okay, and again the soundtrack, played by Electric Light Orchestra, sold very well.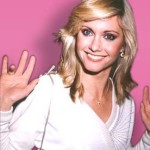 Planning for a comeback in 1992, releasing the album "Back To Basics" Olivia was diagnosed with breast cancer. All her plans for the upcoming USA tour were cancelled, she had an operation and returned to Australia to recover
While winning the battle against cancer, Olivia wrote songs for a new album. That was released in 1994 under the title "Gaia". Back on her feet again, Olivia started touring, performing and recording albums, really living up to her 2006 release, "Stronger Then Before".
Olivia Newton-John is doing a lot of charity work, she is a UN Goodwill ambassador for the environment, she works for breast cancer research and other health issues, and she has walked the Chinese wall to raise money and interest for her many projects. She has also been awarded the OBE by Queen Elizabeth 2nd.
In 2008, Olivia married John Easterling. The only one to know about it was Olivia's 20 old daughter Chloe, two weeks later, the news was made public.